Yuan debt hopes spur hiring of credit research analysts in China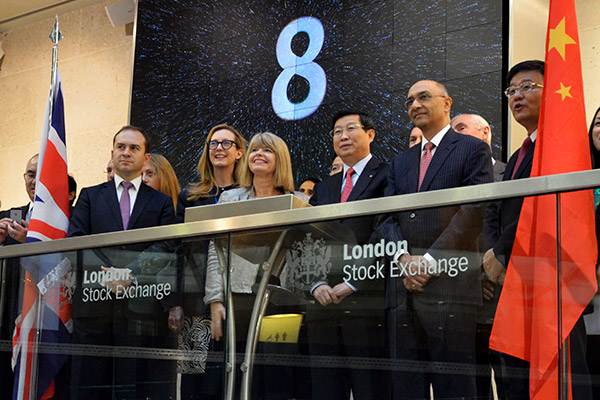 China Construction Bank officials at the launch of the offshore renminbi bond at London Stock Exchange in October 2015. [Photo/China News Service]
Foreign AMCs set to exploit 'one of the most untapped opportunities'
BEIJING-Speculation that China's 56.3 trillion yuan ($8.2 trillion) bond market is about to go more global is spurring investment funds to hire in the country.
A central bank official said at the end of last year that China will create conditions for the inclusion of yuan debt in global indices. BlackRock Inc has said inclusion could be announced in 2017, and that the firm has hired for credit research in China. Invesco Ltd says such a development may come in the next 12 months, and also aims to expand in the country.
Adding Chinese notes to global indices including those from Bloomberg Barclays, JPMorgan Chase & Co and Citigroup Inc would bring cash into the nation from yield-hungry investors from New York to Tokyo. Managers of that wealth will need to navigate rising defaults and local ratings that many have questioned. Investment firms also want to sell more products to a growing legion of wealthy Chinese investors, after greater market access was allowed.
Nick Aylwin-Foster, who runs headhunting firm Sheffield Haworth's asset management practice for Asia, said: "We are seeing increased interest among global asset managers to develop an investment capability for the onshore Chinese bond market. Within fixed income, hiring is primarily into the credit research teams."
BlackRock has hired people in Shanghai who focus on credit research in the domestic bond market, according to Gregor Carle, head of Asia-Pacific fixed income product strategy.
Carle said: "We continue to build that coverage because we see this greater opportunity set coming out of China, and of course, the potential index inclusion that's further down the line."
Fidelity International is building its investment team in Shanghai, according to Jackson Lee, country head for China, speaking in January.
A spokeswoman for the money manager said there is no update to that plan.
Amid shifting regulations and hiring challenges, many funds are still deciding on such a move. They must weigh downsides that include "a gap between when you commit to a new market and when you actually start seeing returns," according to Aylwin-Foster at Sheffield Haworth.
Timing on index inclusion is also uncertain. Joining global debt indices isn't a priority at this stage, Fang Xinghai, vice chairman of the China Securities Regulatory Commission, said in January. The People's Bank of China and other departments will work to improve rules to give foreign investors easier access to the interbank bond market and create conditions for the inclusion of yuan debt in global indexes, Ma Jun, chief economist of the PBOC's research bureau, said in December.
Still, China presents a unique opportunity for fixed income fund managers. Foreign holdings account for only about 1.4 percent of the nation's interbank bond market, making it "one of the most untapped opportunities" in global asset management, according to Nicholas Britz, senior associate at Shanghai-based consulting firm Z-Ben Advisors.
Fidelity International said in January that its wholly foreign-owned enterprise in Shanghai became the first global asset manager to register with the Asset Management Association of China as a private fund management company. The qualification allows the firm to create onshore investment products for Chinese institutional and high-net-worth investors for the first time, it said in a statement.
Andrew Lo, chief executive officer at Invesco Asia-Pacific, said in an interview that the firm has plans for its own wholly foreign-owned enterprise and aims to register it with the AMAC to become a private fund management company.
Lo said: "The WFOE will provide on-the-ground support to our Hong Kong-based Greater China investment team that is offering local investment products to global investors."
Invesco already has a joint venture with Chinese partners including Great Wall Securities Co and Lo added that the firm is "very committed" to expand its presence in the country.
He said he sees "growing demand" from Chinese institutions to diversify fund managers and investment strategies.
BLOOMBERG