Foreign and Chinese companies equal under Made in China 2025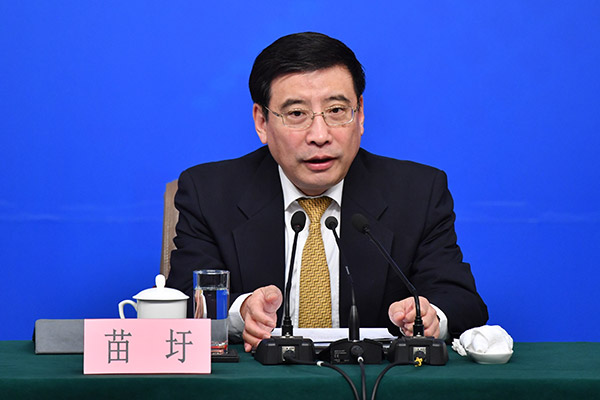 Miao Wei, minister of industry and information technology, answers questions at a press conference for the fifth session of the 12th NPC in Beijing, capital of China, March 11, 2017. [Photo/Xinha]
Foreign and Chinese enterprises will continue to be treated equally as the country steps up efforts to implement the Made in China 2025 initiative, Miao Wei, Minister of Industry and Information Technology, said.
The initiative, which was designed to promote high-end manufacturing in China, adheres to the government-led, market-oriented principles, Miao said.
"It is meant to allow the market to play a decisive role in allocating resources."
Miao made the comments at a press conference during the annual session of National People's Congress on Saturday.
According to Miao, the Made in China 2025 initiative is in line with common international practices.
The United States, Germany and other European countries also rolled out similar policies to upgrade their manufacturing industries.
"Foreign enterprises have played an active role in driving China's economic growth in the past three decades. Foreign companies and domestic enterprises are and will be treated equally," Miao said.