Hon Hai takes hit from slowing iPhone sales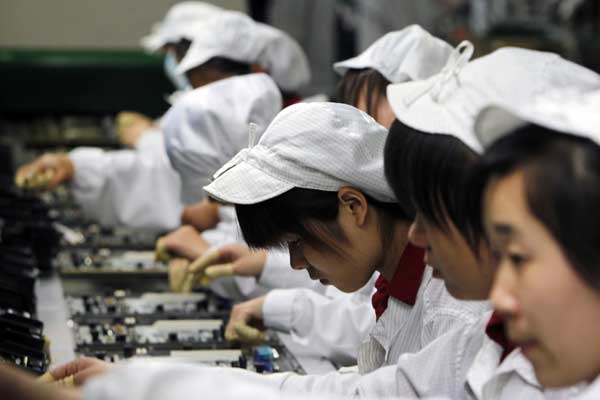 Workers at the production line at a Foxconn Technology Group complex in Shenzhen, Guangdong province. [Photo/Agencies]
Hon Hai Precision Industry Co, the manufacturer of Apple Inc's iPhones, posted its first annual revenue decline since 1991, as it wrestled with a saturating global smartphone market.
The Taiwan-based firm said on Tuesday it recorded NT$4.36 trillion ($137 billion) in revenue in 2016, down 2.81 percent from a year earlier, after its biggest client Apple saw slowing iPhones sales.
Founded in 1974 by business tycoon Terry Gou, Hon Hai, also known as Foxconn Technology Group, is the world's largest contract manufacturer of consumer electronics. Apple accounts for half of its business.
James Yan, research director at Counterpoint Technology Market Research, said smartphone vendors and their supply chain partners are under big pressure as the global smartphone market slows down.
"Hon Hai's heavy reliance on Apple makes it extremely vulnerable to a single client's sales performance," Yan said.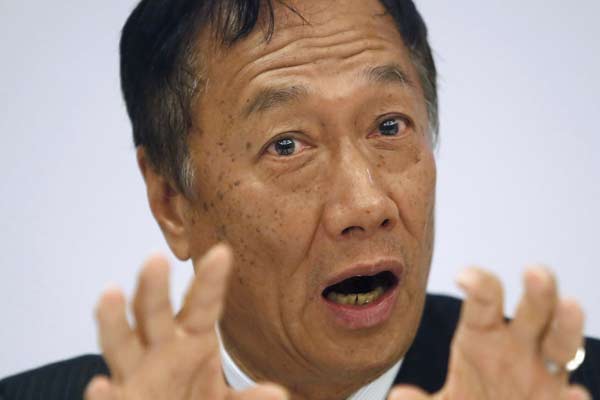 Terry Gou, founder and chairman of Foxconn Technology Group.
In 2016, the global smartphone market was expected to grow by 0.6 percent year-on-year, far lower than the 10.4 percent growth rate in 2015, research firm International Data Corp estimated.
Hon Hai's decline came after Apple reported in October its first annual revenue dip since 2001. The US tech giant finds it increasingly hard to resonate with consumers in China, the world's largest smartphone arena where local players Huawei Technologies Co and Oppo Electronics Corp are gaining ground.
Nicole Peng, research director at Shanghai-based consultancy Canalys, said although Chinese brands such as Huawei and Oppo have also turned to Hon Hai to assemble smartphones, they only account for a small slice of the latter's business.
"There is an urgent need for Hon Hai to diversify its revenue sources. We expect shipments of iPhones to decline by 13 percent in 2016," Peng said.
Although Apple will see a stronger sales momentum this year, with a shipment of 211.7 million units of iPhones, it will still be far less than the 231.5 million units in 2015, Canalys forecast.
But Xiang Ligang, a smartphone expert and CEO of the telecoms industry website cctime.com, noticed a bright spot in Hon Hai's financial report.
"In the quarter ended in December, sales were up 9.76 percent year-on-year, signaling big demand for the iPhone 7 Plus," Xiang said.
"It is too early to predict how Hon Hai and Apple will perform in 2017, because this year marks the 10th anniversary of the iPhone and Apple may unveil a cutting-edge product to revive its sales," he added.