Fiscal revenue silver lining for Liaoning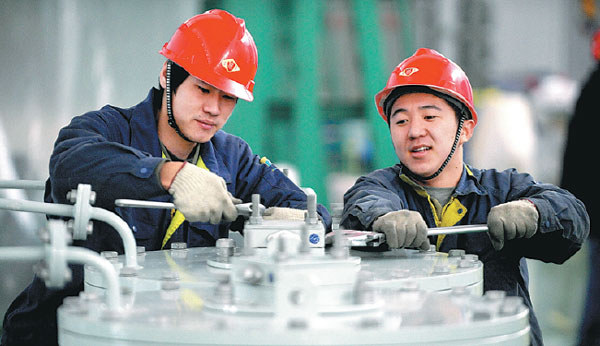 Workers from TBEA Shenyang Transformer Group Co assemble equipment in a plant in Shenyang, Liaoning province. [Photo by Zhang Wenkui/For China Daily]
Northeast China's Liaoning province is back on positive note after it posted a staggering 2.2 percent slide in GDP in the first three quarters last year, said government officials on Tuesday.
Guan Zhi'ou, secretary-general of the country's bottom ranking province, said such confidence is supported by leading indicators, as electricity usage and freight volume grew 11.1 and 3 percent year-on-year, respectively, in December, while producer price index (PPI) edged up after sliding for 51 consecutive months.
The province also reported a 3.4 percent year-on-year increase in fiscal revenue to 219.9 billion yuan ($31.8 billion) last year despite 85 billion yuan tax reduction, said Qiao Jun, party secretary of Liaoning provincial Research Office.
"The northeast is still falling behind the southern part of China, but we are working hard to catch up and are learning from Guangdong province," said Guan at a media briefing on Tuesday.
Known as China's "eldest son" since its founding, the northeast, namely the provinces of Liaoning, Jilin and Heilongjiang, were the industrial bastion in the 1950s and 1960s.
However, the region gradually lost its steam due to excess capacity in steel, inefficient state businesses and an exodus of young talents, as well as the world's second largest economy shifting its focus towards market and services. Revitalizing the northeast rust belt has been among China's top priority.
"It is like going uphill even if the climb is steep. No matter how difficult it is, nothing can stop us," said Qiao, adding that the service sector now accounts for over 50 percent of the GDP, and 17.2 percent of industrial output came from high-end manufacturing.
The confidence toward a positive momentum also comes from the government's "wrist-cutting determination" to improve business environment and get rid of northeast's stigma of bureaucracy and rampant corruption, said the officials.
Liaoning is staging a campaign to simplify administrative approvals to attract investments. Market participants can gain approvals on over 400 items at a one-stop service center, before filing application and checking reference regulations online.
"Northeast provinces should still warn against half-way reform. Only through deep reflection, can they find the firm courage to carry on and carry along," said Li Kai, professor and vice-dean of China Academy of Northeast Revitalization.