International organizations note stable growth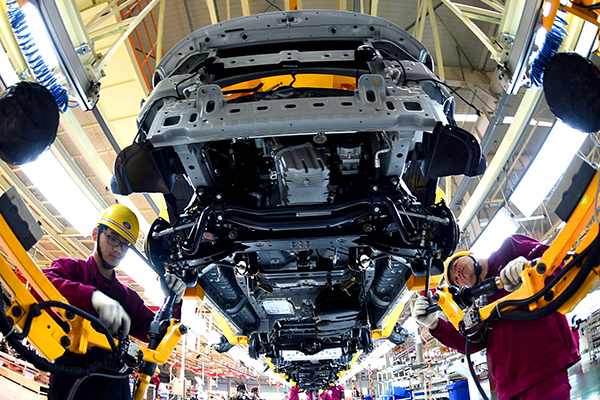 From January to November, about 25 million cars were sold in China, up 14.1 percent year on year, according to China Association of Automobile Manufacturers.[Photo/China Daily]
The Asian Development Bank updated its 2016 economic outlook this week, retaining its 6.6 percent growth forecast for the Chinese economy in 2016 and 6.4 percent for 2017, while downgrading its projection for the whole of developing Asia.
China's economic expansion is "driven by strong domestic consumption, solid wage growth, urban job creation and public infrastructure investment," the ADB said in a statement.
Internet businesses, new energy and robotics represent growth potential for the Chinese economy, said Zhuang Juzhong, ADB deputy chief economist.
The ADB is not alone in its upbeat forecast. The World Bank predicts 6.7-percent growth for 2016 and 6.5-percent for 2017.
"We are very consistent with our forecast system. We still believe a hard landing is not likely," said Bert Hofman, World Bank country director for China, Korea and Mongolia.
The economy is dynamic and doing very well, said Hofman, adding that China's annual growth target of above 6.5 percent for 2016-20 is achievable with sufficient reforms and good micro-policies.
"Adjusting your policy in light of new facts (and) circumstances is wise, and China has been doing well on that," he said.
China has accomplished much in key areas, including liberalizing and opening the economy, and the financial system reform, said David Lipton, first deputy managing director of the International Monetary Fund.
Amid waning foreign trade, rebalancing entails transitioning to a domestic-consumption oriented economy, Lipton said.
"We have already seen the service sector growing more rapidly than the industrial sector. That's an indication of these changes," he said.
China has attained steady growth this year, with GDP expanding by 6.7 percent year-on-year in the first three quarters.
However, the three economic experts noted that given the faltering global recovery, US interest rate hikes and increasing protectionism and nationalism, China's external environment remains uncertain.
"We face increasing uncertainty, so we have to prepare for that," said Hofman.
Lipton said that central and local government debt is rising in China and corporate debt is very high.
The IMF official suggested a huge overhaul of unprofitable state-owned enterprises and reduced production of goods with excess supply in the global economy.
"It is right for China to focus on the supply side of the economy, boosting productivity and efficiency of workers, and providing workers with better equipment and technology," Lipton said.
Zhuang voiced concern about corporate debt, but he said the risks were generally under control as the central government has already begun to address it.