China's property investment cools in Jan-Nov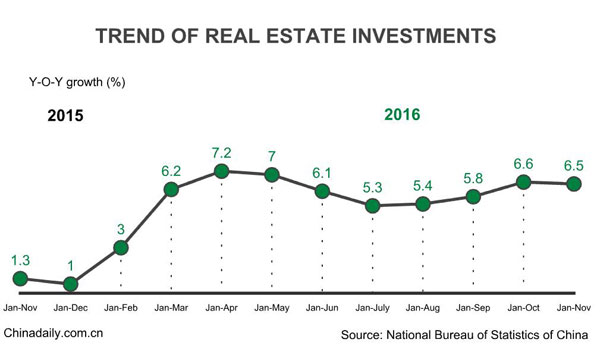 BEIJING - Investment in China's property sector cooled in the first 11 months of 2016 as measures rolled out by the central government to rein in house prices begin to make a difference, official data showed Tuesday.
Real estate investment rose 6.5 percent year on year in the first 11 months of 2016, slightly lower than the 6.6 percent registered during the January-October period, according to the National Bureau of Statistics (NBS).
For residential property, investment rose 6 percent year on year, accounting for 67 percent of investment in the sector.
Housing sales maintained steady growth. In terms of floor area, property sales jumped 24.3 percent in the first 11 months.
By the end of November, 690.95 million square meters of property remained unsold in China, down 4.27 million square meters from a month earlier.
China's property market has become increasingly diversified, with major cities reporting record prices and smaller cities struggling to shift the glut.
The split picture means the government still needs to strike a balance between curbing asset bubbles in big cities and boosting sales in smaller cities.
The central government is confident that its measures will continue to cool the overheated property market.
Since late September, a wave of property restrictions introduced to more than 20 cities - including Beijing, Shanghai and Shenzhen - have cooled speculation, reduced transactions, reduced the risk of asset bubbles and stabilized the market.