CSRC issues regs to control subsidiaries' risks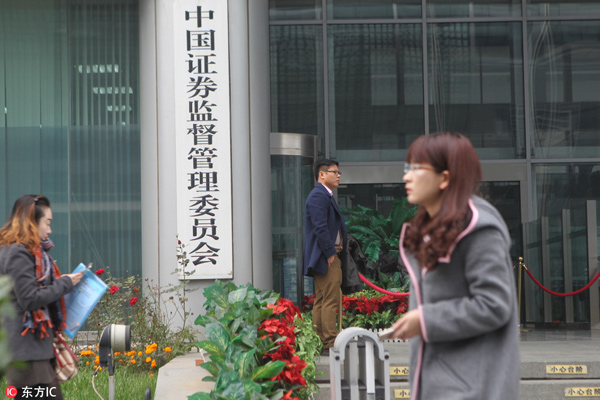 Pedestrians walk past the building of the China Securities Regulatory Commission in Beijing, Nov 18, 2016. [Photo/IC]
China's securities regulator released two regulations that will standardize the businesses and control risks of the subsidiaries of fund management companies .
"The regulations will significantly improve risk control of the subsidiaries of fund management companies. Net capital will be a key risk control index," said Deng Ge, a spokesman of the China Securities Regulatory Commission at a news conference on Friday.
The draft regulation states that the net capital of a subsidiary of a fund management company should be no smaller than 100 million yuan ($14.5 million). The net capital should also be no less than 40 percent of a subsidiary's net assets and no less than 20 percent of its liabilities.
The transition period of the regulation on subsidiaries' risk control will be 18 months, but all of their risk control indexes should meet half of the requirements in 12 months.
Deng said the regulator will deal with businesses of subsidiaries of fund management companies differently and pay attention to those with high risks.
Some subsidiaries of fund management companies became "channels" of commercial banks to offer loans for some risky enterprises. A so-called "channel" institution is a subsidiary of a fund management company that lends its license to make profits. "Channel businesses will be largely curbed by the new regulations," said Liu Achang, an investment manager at Beijing-based JD Capital.
In 2012, the regulator allowed mutual funds to set up subsidiaries in a bid to expand and diversify their investment scope. But, the operation of these subsidiaries has largely existed in a regulatory void.
Separately on Friday, the Shanghai and Shenzhen exchanges expanded from 873 to 950 the number of stocks that are allowed to be traded on margin, meaning that investors are allowed to borrow money for stock purchases. Deng, the CSRC spokesman, said the move is to diversify the trading stock varieties and to allow investors to have more choices.
Meanwhile, China's securities regulator also plans to allow more regional equity exchanges designed for small businesses, as the government steps up financing support to the segment of the economy most hit by slowing growth, Bloomberg reported, citing people with knowledge of the matter.
Draft rules have been submitted to the State Council that would permit provinces without the venues - which allow trading of equity in private companies - to set one up, said the people, who asked not to be named as no final decision has been made.
Bloomberg contributed to this story.