More latitude to pension funds will help tackle aging population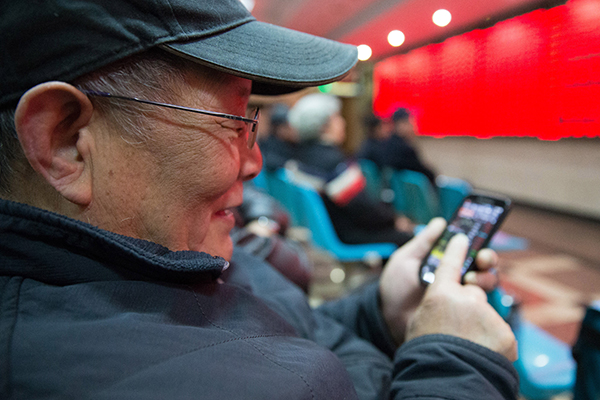 An investor browses stock information with his smartphone at a brokerage in Nanjing, Jiangsu province. [Photo provided to China Daily]
BEIJING - By allowing local pension funds more latitude on investment, China has made a cautious but significant step to tackle the increasing challenges of an aging population.
A group of local governments will entrust their pension funds with the National Council for Social Security Fund (NCSSF), for more diversified investment, and the operation will be launched this year, the Ministry of Human Resources and Social Security (MOHRSS) said Tuesday.
The move is part of China's efforts to preserve and increase the value of its vast locally-managed pension funds, which have traditionally been parked in banks or used to purchase treasury bills with low returns.
The investment proceeds shrank even more in real terms as China's economic growth plateaued to its slowest pace since the global financial crisis and interest rates stayed low.
Complicating the picture, the country has a rapidly aging population due to decades of strict family planning policy and increased life expectancy.
There were more than 200 million people aged over 60 in China in 2015, accounting for over 16 percent of the total population. The number of people aged over 65 stood at 144 million.
This makes it an urgent task for China to seek higher returns on its pension funds investments, analysts said.
"The first group of province and cities to transfer their pension funds to the NCSSF will likely be those with relatively large amounts of such funds, such as Jiangsu, Zhejiang and Shanghai," said Dong Dengxin, a financial researcher with Wuhan University of Science and Technology.
He estimates that three to five provincial governments will join the first wave of investment, releasing 200 billion yuan ($29.5 billion) to 300 billion yuan of funds.
Unlike local governments, the NCSSF is able to invest the pension funds in a variety of financial products, including bonds and equities.
The NCSSF's investment of all its social security funds produced a return of 15 percent in 2015, with an annual average return rate of 8.8 percent since its establishment.
A pilot scheme has already seen the provinces of Guangdong and Shandong entrust the NCSSF to manage 100 billion yuan of their pension funds, respectively.
From 2012 to 2015, the NCSSF achieved an average yield of around 7.9 percent for the investment of the pension funds from Guangdong, according to NCSSF data.
Despite the attractive returns, the scale of pension funds available for investment in the financial markets remains limited for now, said Jin Weigang, a social security researcher with the MOHRSS.
China has about 4 trillion yuan of pension funds in total but a majority of them have not been collected for the provincial governments yet, Jin said, noting that at most 1 trillion yuan could be gathered at the provincial level this year.
The loosening of investment rules on pension funds has been closely watched by capital markets, especially the stock market.
The State Council issued guidelines for such investment during the stock market turmoil last summer, amid calls for more long-term institutional investors, instead of fickle retail investors, to stabilize the market.
The introduction of pension funds will help curb speculation and reduce volatility on the stock market, said Huatai Securities analyst Zhang Jing.
However, the government's priority remains the stable value increment of the pension funds with bold investments expected to be avoided.
Most of the pension funds should be invested in fixed-income securities to ensure the safety and liquidity of such funds, Deng said.
To minimize risks, the cabinet guidelines restrict the proportion of pension funds in stock-related investment to 30 percent.