Aerospace industry sparks higher demand for graphite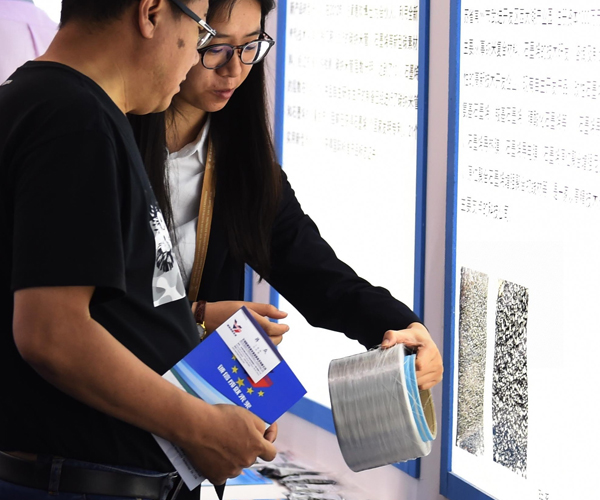 Visitors learn more about grapheme products at an inter national expo in Harbin, Heilongjiang province. [Photo/Xinhua]
The fast-developing local aerospace industry has given rise to growing demand for independently developed high-performance graphite-a major carbon material used in aerospace projects-according to a top executive at Harbin Electric Carbon Factory.
"China's space and military industry has higher demand for graphite products, especially for engines under extreme conditions," said Cui Mengyan, deputy director of the factory.
Harbin Electric Carbon Factory, a State-owned enterprise in Heilongjiang province that began operations in 1958, has been doing research into aerospace graphite and supplying the material for nearly all of China's milestone aerospace projects.
These include the Long March carrier rockets, the Chang'e-1 and 2 lunar probes, the Shenzhou spacecraft and the Tiangong 1 and 2 space labs.
The company said its annual capacity of carbon product production stands at 1,000 metric tons. Its main products include high-performance graphite, electrical machine dynamo brushes and high-purity graphite.
"We used to rely completely on imports for aerospace graphite," said Liang Shilin, deputy chief engineer of Harbin Electric Carbon Factory.
The company is seeking to combine graphene with graphite, which it said could prove to be a major breakthrough technology for the industry.
"Graphene could replace silicon to be the future major substance in electronic parts. Incorporating graphene into graphite will raise the performance of the product by leaps and bounds," said Cui.
Graphene is the hardest and lightest material with strong electrical conductivity and heat transfer, far exceeding silicon and other semiconductor raw materials.
Harbin Electric Carbon Factory has formed a strategic partnership with Hunan University, one of the few universities in China with a leading position in the area.
Contact the writers at yangziman@chinadaily.com.cn and tianxuefei@chinadaily.com.cn