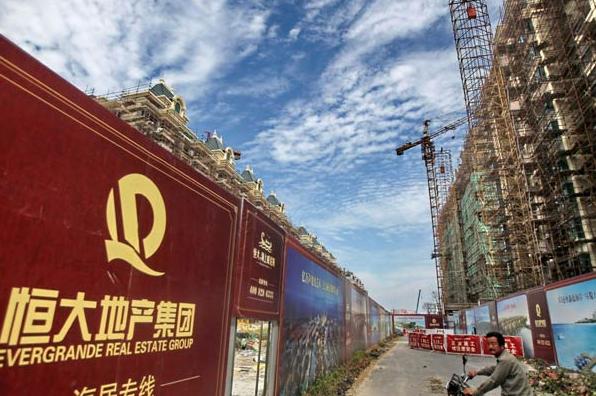 A residential complex developed by Evergrande Real Estate Group in Qidong, Jiangsu province. [Photo provided to China Daily]
SHANGHAI - Half of China's listed property developers saw their net profits decline last year as the country's real estate market cooled.
So far, 59 real estate firms have disclosed their annual results. Thirty reported declines in net profits and, of those, eight posted losses, the Centaline Property Agency said Tuesday.
The 59 firms reported total revenues of 510 billion yuan ($78.8 billion), up 24.8 percent year on year. Their net income rose 9.4 percent on average, down from 10.5 percent a year ago, it said.
Zhang Dawei, chief analyst at Centaline Property, said although many others have yet to disclose the results, they are expected to report profit declines, too.
CIFI Holdings (Group) Co, one of the better performers, saw revenues up 43 percent to 30.2 billion yuan with core net profits rising 12.1 percent last year.
Lin Feng, president of CIFI Holdings, said the strong performance was due to the company's strategy focusing on first- and second-tier cities.
In 2016, the company will strive to boost sales to reduce inventory while reducing land purchases, Lin said.
Meanwhile, many developers are trying to diversify their business to seek new growth drivers. Wanda, Greenland and Evergrande have launched financial services.
Su Xuejing, an analyst with China Securities, said the transition is in line with the country's efforts to adjust its economic structure and transform its growth mode.