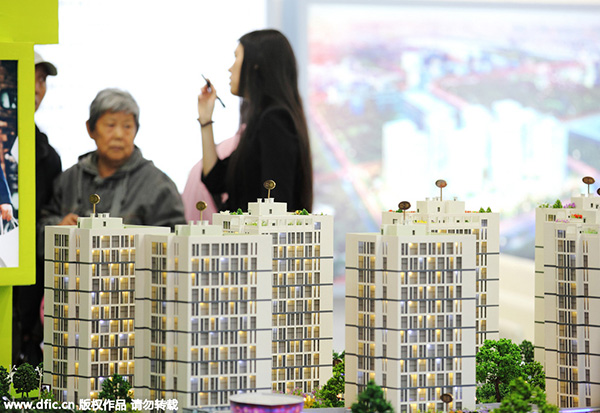 A sales woman introduces a property program to visitors at a spring real estate exhibition held in Beijing, April 17, 2015. [Photo/IC]
Most of China's land sale revenue last year went to compensation and related spending, leaving only a marginal sum to be used for other expenditures, according to the Finance Ministry.
A total of 2.68 trillion yuan ($414 billion), or 79.6 percent of last year's land sale fund spending, went to compensation and preliminary land development.
This left 688 billion yuan, or 20.4 percent of total expenditure, as disposable revenue for local governments to build urban infrastructure, social housing and rural development, according to an annual statement on China's land sales released on Tuesday.
This is in contrast to the widespread perception that governments raked in a gigantic amount in land sale revenue last year to finance unspecified projects, with little transparency.
A recent Chinese media report said that in the past 17 years, land worth 27.3 trillion yuan had been sold, but there had been little information available on how the money was spent.
In order to retrieve a piece of land, local governments must negotiate with residents who have properties built on the land and pay an agreed amount of money-generally known as compensation for land requisition.
Compensation-related fees have surged in recent years and have eaten away a chunk of the money local governments earned through land sales. In 2009, for example, rigid expenditure only accounted for 52.7 percent of total expenditure, compared with 79.6 percent in 2015, leaving much higher room for flexible uses.
Surging compensation costs and dwindling land sales income, due to the property market downturn, have squeezed local governments' ability to build public utilities, social housing and repay debt.
Rating agency Moody's cited this reason in concluding that local governments' ability to serve debt and support government-owned entities could be tested.
So-called wiggle room for local governments has been eroded further by the central government requirement that at least 10 percent of net income must be used for social housing construction.
Another 10 percent must fund arable land and water conservation efforts, and 10 percent must be used for education. Asa result, only 353 billion yuan, or 51 percent of net income last year, was used for urban construction.
National land sale revenue last year was 3.37 trillion yuan, a year-on-year decline of 21.6 percent, according to the ministry.
Half of China's listed property developers saw their net profits decline last year. So far, 59 real estate firms have disclosed their annual results. Thirty reported declines in net profits and eight of those posted losses, Centaline Property Agency said on Tuesday.
Governments in Dalian in Liaoning province, Ningbo in Zhejiang province and the Inner Mongolia autonomous region were particularly hard hit-seeing plunges of more than 50 percent.
The ministry also reported some misconduct in using the income. For example, it said most "illegal land sale" revenue had not gone to the fund, although it did not define "illegal" and no specific figure was reported. Some localities exempted due land revenue to attract investment, or inflated the revenue to boost performance.