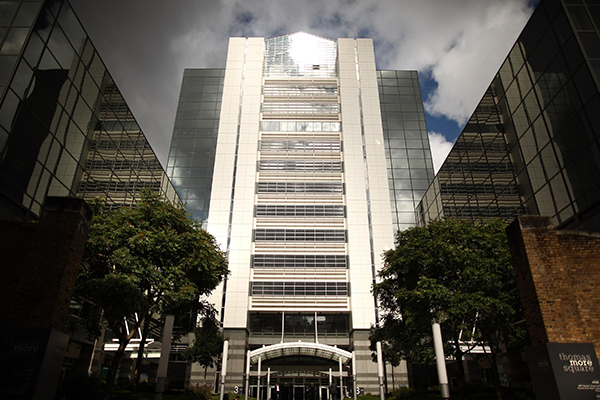 The Thomas More Square. [Photo/VCG]
Chinese investment conglomerate Fosun International Ltd, founded by "the Chinese Warren Buffett" Guo Guangchang, is believed to be speeding up its overseas expansion with its latest acquisition in London.
A recent Reuters report said that Fosun is set to close the acquisition of the Thomas More Square complex in London for around 300 million pounds ($426.4 million).
The complex, which was built in 1990, is located on the edge of the City of London, and adjacent to St Katherine Docks in Wapping on the north of the River Thames as well as London City Airport. The majority of its tenants since 2014 have been Rupert Murdoch's News Corp businesses.
According to Land Securities Group Plc, the largest commercial property company in the United Kingdom, which currently holds 100 percent of the Thomas More Square complex, its market value is estimated between 100 million pounds and 200 million pounds. The annualized net rent is around 9.7 million pounds.
However, Land Securities declined to comment on the acquisition, according to Reuters. A similar response was given to China Daily by Fosun International on Wednesday, which added that everything should be based on the company's announcement.
However, no such announcement was made by the time the market closed on Wednesday afternoon.
Once the deal is finalized, it will become Fosun's biggest real estate transaction in Europe. Fosun had already bought London's Lloyds Chambers in 2013 and Milan's historic Palazzo Broggi in 2015.
Last year, Fosun set up a joint venture called Resolution Property Investment Management with European investment firm Resolution Property. Fosun announced last July that the joint venture would act as its exclusive investment manager to buy interests in real estate assets across Europe.
Justin Taylor, head of EMEA retail at property service provider Cushman & Wakefield, said Europe is one of the best choices for Chinese companies interested in buying overseas properties, as the retail market is expected to see further improvements in some parts of Europe, especially busy commercial areas.
"Indeed, a strong retail sales growth forecast, robust occupier demand and a lack of supply in many locations mean rents will keep rising in the most popular high streets," he said.