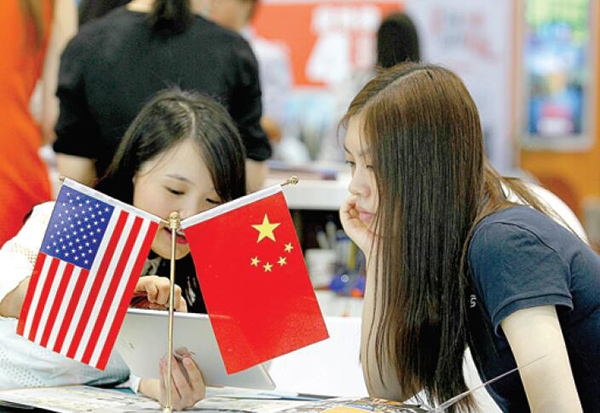 A home sales agent for US properties explains the house purchase details to a potential buyer in Shanghai. [Photo provided to China Daily]
Zhou Yilan, 46, owner of a private firm in Hangzhou, Zhejiang province, heaved a sigh of relief when her lawyer called on Jan 8 to say the paperwork related to her purchase of a house in Los Angeles has been completed finally.
"I can rest assured and enjoy the Spring Festival now," said Zhou, speaking to China Daily shortly thereafter.
She spent more than six months to formalize the LA property deal. "It was one of the biggest challenges I have ever experienced."
Zhou is among the many Chinese investors who are buying overseas properties to own a more diversified portfolio.
According to Juwai.com, an online service offering information on overseas properties to Chinese mainland buyers, Chinese real estate investment outside China has grown from $5 billion in 2010 to $52 billion in 2014, and is set to reach $220 billion by 2020.
Reasons abound. As China continues to open up its capital markets, Chinese residents can convert their renminbi into other currencies like the US dollar in greater amounts, and pay for overseas properties in foreign currencies.
Also, Chinese investors are better-traveled now than ever before and, hence, exposed to more investment opportunities.
"On the one hand, US properties now are more expensive than 12 months ago, when I first decided to diversify my investments. On the other, if I didn't buy as soon as possible, the current value of my wealth wouldn't have been retained, said Zhou.
So, she met several visiting overseas property agents during their roadshows in China. In late summer of 2015, Zhou finally zeroed in on a secondhand property, a three-bedroom house in suburban Los Angeles. It cost her $890,000.
Officials at global realty firms said Chinese buyers' interest in US properties has been increasing as they think the value of US houses will appreciate.
Aaron Kirman, president of the international estates division of realty agency John Aaroe Group, said in a recent interview that inquiries from Chinese buyers for his highest priced properties rose 45 percent year-on-year in the last quarter of 2015.
"I currently have more than a dozen properties priced from nearly $15 million to $135 million. Every one of them is getting much greater interest from Chinese buyers," said Kirman.
The US is one of the top overseas destinations of Chinese students and tourists. Owning a US property helps, especially if a Chinese parent-cum-investor wishes to diversify his/her portfolio and buck the trend of yuan depreciation.
However, for property market professionals in the US, doing business with Chinese buyers entails challenges.