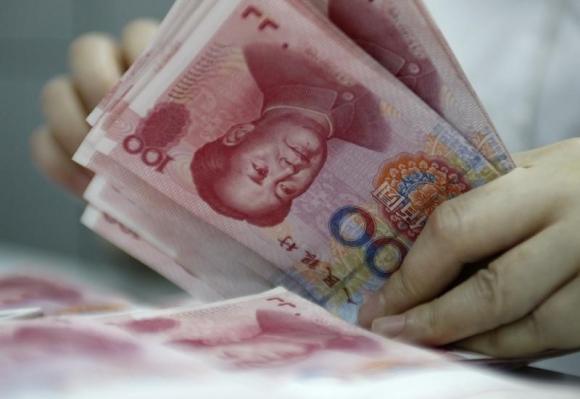 An employee counts yuan banknotes at a bank in Huaibei, Anhui province.[Photo/Agencies]
China's central bank reduced the amount of cash that commercial banks must put aside as reserves, a move that analysts said is aimed to shore up economic growth and could be followed by more monetary measures to address any further downturn.
The People's Bank of China said in a statement that the reserve requirement ratio, known as RRR, will be cut by 50 basis points for all banks beginning on Tuesday, taking the ratio to 17 percent for the country's biggest lenders. It is aimed to help keep market liquidity at reasonable levels and guide stable and appropriate credit growth, according to the statement.
China's foreign exchange reserves hit $3.3 trillion by the end of last year, over $500 billion less than a year ago, sparking concerns over liquidity shortage that have spread to the capital market. Major stock indexes have tumbled continually since the start of this year, with the benchmark Shanghai Composite Index shedding nearly 30 percent at the worst.
Zhou Xiaochuan, central bank governor, reassured the market during last week's G20 finance ministers and central bank governors meeting that China still has some monetary policy space and tools to offset the downside risks.
Zhang Ming, senior economist of the Institute of World Economics and Politics at the Chinese Academy of Social Sciences, said, "The reduction in the RRR is appropriate, as it will help replenish market liquidity after months of capital outflows." There could be another five RRR cuts, each by 50 basis points, and even one or two interest rate cuts, each by 25 basis points, this year, Zhang said.
Zhu Haibin, JP Morgan's chief China economist, said there could be an interest rate cut of 25 basis points and four RRR cuts, each by 50 basis points, this year.
The central bank is very cautious in resorting to interest rate cuts to boost the economy because a lower interest rate will lead to a narrower interest rate gap between China and the United States and put more pressure on yuan depreciation.
"China hopes to keep its currency stable," Zhang of CASS said.
But since an interest rate cut can reduce the financing costs of enterprises, and if the economy further sours, policymakers may still cut the rate to bail out the corporate sector and boost the economy, he said.
The RRR cut may put some pressure on the yuan's exchange rate, but the impact will be quite mild and indirect, he said.
China last cut the RRR on Oct 23 and lowered benchmark interest rates by 25 basis points on the same day.