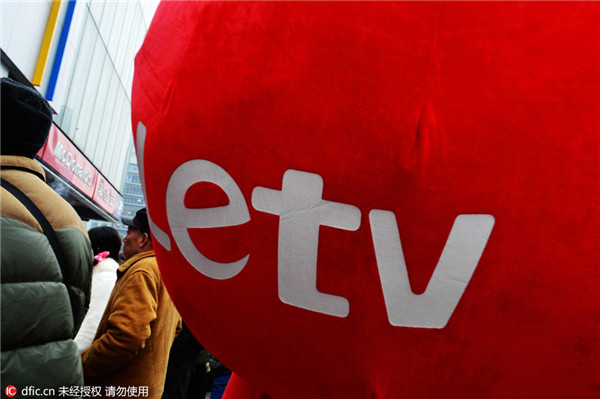 People are seen at a promotional event for Letv, now known as LeEco, in Chongqing, China, on Jan 30, 2016.[Photo/IC]
$414m deal should mean huge rise in overseas viewers
LeSports has signed a strategic partnership agreement with events broadcast firm Ti'ao Power, giving the sports arm of LeEco Holdings Ltd the exclusive global broadcast rights to the Chinese Super League for the next five seasons.
In a deal worth 2.7 billion yuan ($414 million), officials said the latest broadcast technologies will be used, including virtual reality, which should result in a significant rise in overseas viewers for China's top soccer event.
Ti'ao Power previously spent a whopping 8 billion yuan in September to broadcast CSL over the period. But under the new agreement, LeSports' websites and mobile applications will have exclusive rights to show CSL games.
Eight Internet companies, including Sina Corp, were previously live-streaming games.
Lei Zhenjian, LeSports' CEO, said the company is also planning to let viewers pay for CSL games in 2018.
"LeEco will provide the CSL with cutting-edge broadcasting technologies to bring the event to overseas audiences," he said.
The company will stream live 240 CSL matches in China, the United States, Canada and much of Southeast Asia during the new season, which kicks off on March 4.
Zhao Jun, Ti'ao Power's general manager, said: "VR technology is likely to become the norm for soccer broadcasts in the future, with audiences able to watch live games using VR goggles-an experience which will make them feel as if they are standing on the field itself."
The CSL is considered Asia's biggest soccer tournament in terms of viewer numbers.
Last season, average gates were 22,580, according to LeSports, nearly on a par with games in Italy's top soccer league Serie A.
A dozen local television stations will also broadcast CSL games this year on cable TV, while China Central Television, the biggest TV network in the country, is still in negotiation with Ti'ao Power on a nationwide broadcasting deal.
LeSports also said it is close to completing a new round of financing that could value the company at more than 1 billion yuan. It is also mulling a public listing as soon as next year.
Zhang Qing, the founder of sports consultancy Key-Solution, said the new broadcast deal should raise global awareness of China's premier soccer event and the country's sports market as a whole.
Tan Jianxiang, a sports sociology professor at South China Normal University, agreed.
"These huge investments being made in soccer are drawing attention to the sport, while promoting its supporting brands.
"But the price (of the media rights) has far exceeded the value of the league's quality, so investors should also focus on more practical areas, such as youth development," Tan said.
Sun Xiaochen contributed to this story.