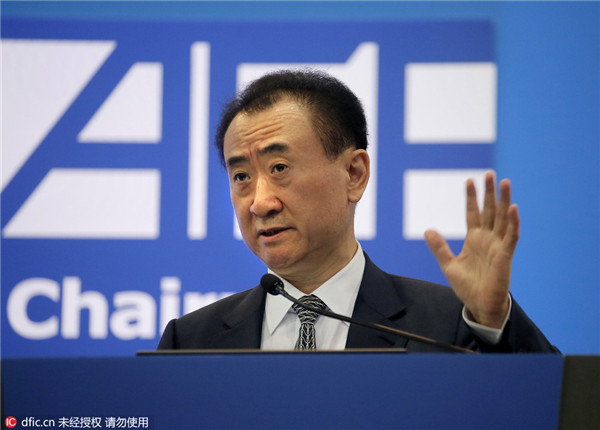 Wang Jianlin, chairman of Wanda Group, delivers a speech at the Ninth Asian Financial Forum in Hong Kong, on Jan 18, 2016.[Photo/IC]
Wang Jianlin, head of Dalian Wanda Group and China's wealthiest man, said he wants the world to come to understand Chinese management philosophy and culture through his book, "The Wanda Way", which was launched in English in London on Monday.
"I hope people can get to know Chinese culture and philosophy. A country is strong when its companies are strong," he told a selected audience at the British Museum.
The book has already been reprinted 15 times and has sold 1 million copies in its original Mandarin, after its launch in China in 2015.
"I think this is a milestone event, not just for myself, or Wanda Group, but for Chinese companies," he said.
"China has begun to export our management philosophies. China exports have shifted from home appliances to cars and machinery, and our high-speed rail technology has been exported abroad," he added.
The UK Secretary of State for Culture, Media and Sport John Whittingdale told the audience:"We have much to celebrate in this new golden era of the UK-China relationship.
"China and Britain can work together for our mutual benefit," he added.
Jin Xu, minister counsellor at the Chinese embassy in London, said in his address that "you can learn a lot about China, China policy and China entrepreneurs from this book. After you've read it, get a visa for China."
According to the Hurun report, Wang is the 26th richest man in the world and the richest in China, with a personal fortune of $25 billion.
His company, Dalian Wanda Group, is China's largest private property developer, generating revenues of $40 billion a year from its global operations. Its three core areas are culture, private property and finance.
Dalian Wanda Group has invested 1.2 billion pounds in the UK, with a hotel and residences on a site in London on the south bank of the River Thames, not far from the gleaming glass building the houses MI5, Britain's intelligence service.
He also acquired Sunseeker,a UK-based luxury yachtmaker, and his company now employs 1,200 people across the UK.
Wang is due to head to Oxford on Tuesday to deliver an address at the University's Said School of Business Studies.