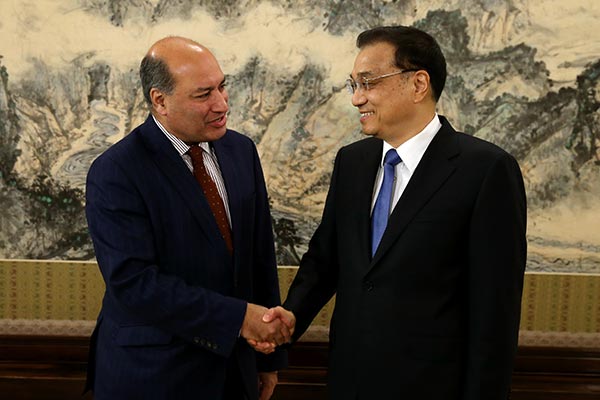 Premier Li Keqiang meets with Suma Chakrabarti, president of the European Bank of Reconstruction and Development, in Beijing on Jan 15, 2016. [WU ZHIYI/CHINA DAILY]

Li proposes to EBRD chief to support growing economic links with Belt and Road cooperation
China has no intention to stimulate exports through competitive currency devaluation, and there is no basis for the renminbi to continue exchange rate depreciation, Premier Li Keqiang said while meeting with Suma Chakrabarti, president of the European Bank for Reconstruction and Development on Friday in Beijing.
China is able to keep the RMB exchange rate stable at a reasonable and balanced level, Li said.
Regarding Chakrabarti's visit to Beijing as the formal kickoff of China's membership in the EBRD, Li proposed to support strengthening economic ties between China and Europe through cooperation in the Belt and Road Initiative, production capacity and third-party market development.
Meanwhile, the premier briefed Chakrabarti on China's recent financial reform, saying it is aiming to establish a regulatory framework to prevent systemic risks, which at the same time suits the development of modern financial markets.
Chakrabarti said the EBRD will take China's joining as an opportunity to help integrate the development strategies of China and European countries, and it would like to work with China on other multilateral financial institutions such as the Asian Infrastructure Investment Bank, which will be officially launched this Saturday.
Established in 1991 to invest in the former Soviet bloc countries of Eastern Europe, the EBRD has expanded its reach considerably in recent years by raising the number of its shareholder countries to 65.
It now invests in Mongolia, Turkey, Morocco, Egypt, Tunisia, Jordan and more recently, it added eurozone crisis countries Greece and Cyprus to its list. Lebanon was also expected to become a member country in the coming days.
Jia Jinjing, director of the macro research department at Chongyang Institute for Financial Studies of Renmin University of China, said Beijing doesn't need to devaluate its currency and actually, it doesn't want to see a sharply weakened RMB.
China has already been the No 1 exporter of most its exported products, and there is an absence of foreign competition, which means the competition for these products exists only domestically, so there is no need for a currency competition, Jia said.
"On the other hand, China wants to have more say in the international economy and it wants to upgrade its economy, thus I see no reason for a sharply weakened currency," he added.
Xu Hongcai, director of the Department of Economic Research at the China Center for International Economic Exchanges said joining in the EBRD is a mutually expected decision that will help both sides to share experience on economic transition and development, provide new opportunities for cooperation between China and European countries.