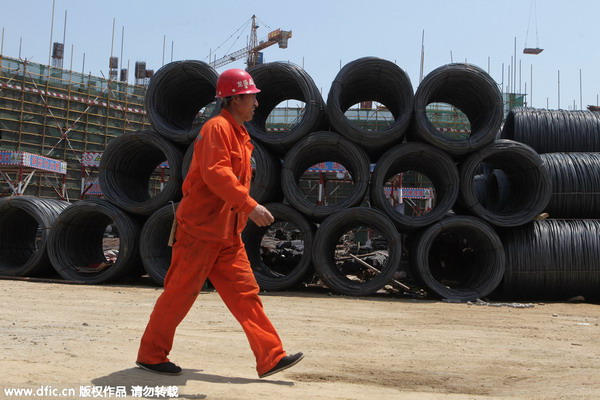 A Chinese worker walks past a stack of coiled steel rods on a quay in Rizhao city, East China's Shandong province, April 29, 2015. [Photo/IC]
Data from the National Bureau of Statistics show GDP in the first three quarters grew 6.9 percent year-on-year to reach 48.78 trillion yuan ($7.67 trillion), the first time it fell below 7 percent since June 2009. The third-quarter growth of 6.9 percent lightly beats expectation signaling an overall economic stability.
China's economic slowdown is mainly attributed to decreasing industrial production and decelerating investment growth in real estate and manufacturing. In the meantime, however, the tertiary industry contributes more to the economy, which helps adjust and improve the economic structure.
Added value of the primary industry reached 3.92 trillion yuan, up 3.8 percent from last year; that of the secondary industry stood at 19.78 trillion yuan, up 6 percent, accounting for 40.6 percent of the total economy; and that of the tertiary industry reached 25.08 trillion yuan, up 8.4 percent, accounting for 51.4 percent of the total.
The secondary industry contributed 36.7 percent to GDP growth in the first three quarters, a record low as of 1983, which was the primary cause of economic slowdown. On the other hand, the contribution rate of the tertiary industry to GDP growth rose to 58.9 percent, 0.7 percentage point higher than last year. That's an all-time high in the recorded history, which makes it the main economic driving force.
Downward pressure increases
Despite overall stability, Chinese economy is faced with more downward pressure amid flagging property and manufacturing investment and weak financial impetus.
Real estate investment during January-September grew slower at 2.6 percent compared with the first eight months. Mild rebound of the commercial housing market has yet to help encourage new construction from property developers whose enthusiasm has been cooling. Whether rising home sales will boost real estate investment and to what level will the market recover will determine the growth of investment in fixed assets in the future.
Manufacturing is faced with meager demand, excess capacity, and negative PPI growth, which added up to industrial deflation and slowing profit growth. Companies have been increasingly unwilling to invest in the sector, thus weighing more on China's economy. Demand for essential raw materials such as steel and cement is weak. In the secondary sector, resource exploitation industry, heavy industry and manufacturing industry are being bogged by huge pressure to cut capacity.
Regionally, structural adjustment of old industrial bases has been slow in Northeast and North China which are energy-intensive and reliant on heavy industry They lack new growth points, making the economic growth there even more difficult.
Meanwhile, the financial sector lost momentum to boost economy. In the first half of this year, it played a substantial role in boosting GDP growth with huge revenues generated from trade commission, services fees and investment management fees. However, things are different since June when the turbulent capital market largely affected institutions such as securities, insurance and trusts. The weakening role of the financial sector will continue as the capital market tends to become stable in future.