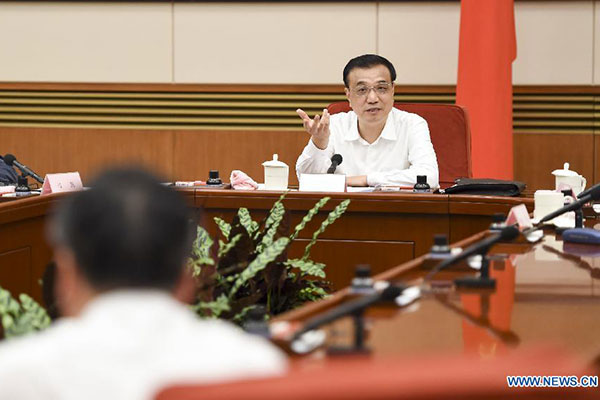 Chinese Premier Li Keqiang presides over a symposium with representatives from financial enterprises in Beijing, capital of China, Oct 16, 2015.[Photo/Xinhua]

Change in finance system to continue despite temporary govt intervention
China's financial system is under control and reforms will not stop despite temporary government intervention, Premier Li Keqiang told the heads of financial institutions at a meeting on Friday.
The government will not stop credit lines for businesses during temporary difficulties if their market outlook is good, according to a circular issued on Sunday, indicating a further loosening of liquidity, although it said the government will stick to prudent monetary policy.
It said the government pledged to ensure reasonably sufficient liquidity and a reasonable expansion of credit loans, as well as to push forward the internationalization and liberalization of the renminbi, with other financial reforms.
"There are doubts about whether financial reforms will stop after the unusual turbulence in the stock market, and the answer is no. ... Financial reforms and opening-up must be carried out continuously and steadfastly to improve China's overall global competitiveness," Li said at the meeting with leaders of State-backed banks and city banks, who complained about rising bad debt and the lack of ways to handle bad loans.
China's stock market tumbled by more than 40 percent this summer, prompting the government to step in with multiple intervention measures. Speculation afterward said that these measures have struck a blow to market-oriented financial reforms.
"Without the measures, there could be more ripple effects in sectors other than the stock market. In addition, a stable financial system is the precondition of future reforms," Li said.
"But having said that, we still have to follow a market-oriented path. We have to restore market functioning under the premise of financial stability, although there are sure to be ups and downs in the market."
Li said the meeting was to "solicit suggestions and listen to the complaints from leaders of financial institutions", as the government is preparing policies after the release of quarterly economic data.
China plans to issue yuan-dominated sovereign bonds in London this week, the first offshore sales of renminbi outside China, as the country is seeking a greater role for its currency in global trade and finance.
China posted a cooler-than-expected producer price index in September, indicating further deflationary pressures.
Overall, the still weak PPI highlights the severe overcapacity problem and sluggish domestic investment demand," Reuters quoted economists at Nomura Securities as saying.
"Given the lackluster growth outlook, we continue to expect moderate fiscal stimulus from the central government and continued monetary easing."