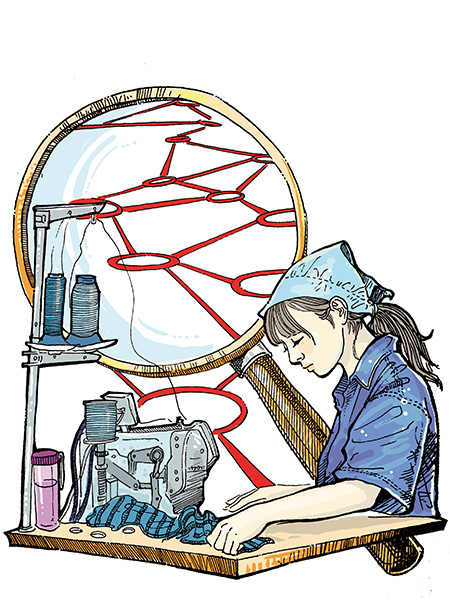 [Provided to China Daily]
Once again it is fashion season in the major couture cities of Paris, Milan, New York and London. Last month, the spotlight was on London Fashion Week, but it should have been highlighting emerging market cities and their home-grown brands.
In particular, the annual Dalian International Fashion Festival, now in its 26th year, continues to grow at an amazing rate, gaining international recognition. This year, an incredible 450 brands were on display, including major global labels.
As China's fashion industry expands, it is gaining an international reputation for excellence. Companies are sprouting up to cater for upmarket clothing, while existing players are looking to increase their market share. One such fashion firm is Ellassay, a high-end women's clothing manufacturer in Guangdong. Ellassay is already well established in China and recently revealed plans to buy a Hong Kong company that owns the rights to German fashion brand Laurel Gmbh.
The acquisition would see the Chinese company take ownership of Laurel's design, pricing and production rights, as well as all the German label's stores on the Chinese mainland. The 11.18 million euros ($9.98 million) price tag does not appear to be an obstacle to Ellassay's global ambitions.
This latest move could put an end to the myth that Chinese companies are somehow incapable of building creative, emotional brands. But what is just as important is the appeal of elements of Chinese culture that are now appearing in fashion garments and accessories across the world.
Of course, in the country's history, the clothing culture has always been associated with "style" and "elan". Specifically, the Archaic brand was seen at this year's Dalian International Fashion Festival with peony flowers at the forefront of its designs.
The label's dresses appear quintessentially Chinese with high collars and body-hugging silhouettes. But high-tech printing was also employed in the making of motifs. This is a clear infusion of creativity and technological innovation that runs right through the company.
Among the other Chinese brands making a splash in Dalian were the Kaimen kids clothing range and the Yousoku menswear brand. Both labels display a maturity and creativity that appears to typify the Chinese fashion industry.
But what lies behind this global ambition is the new found confidence and self-belief within the sector. The success of the Dalian International Fashion Festival and the global expansion of Ellassay have no doubt played a huge part in this.
As China's economy continues through a transitionary period from low cost production to premium brand building, the country's fashion industry can be a beacon of light.
The author is a visiting professor at the University of International Business and Economics in Beijing and a senior lecturer on marketing at Southampton Solent University's School of Business. The views do not necessarily reflect those of China Daily.