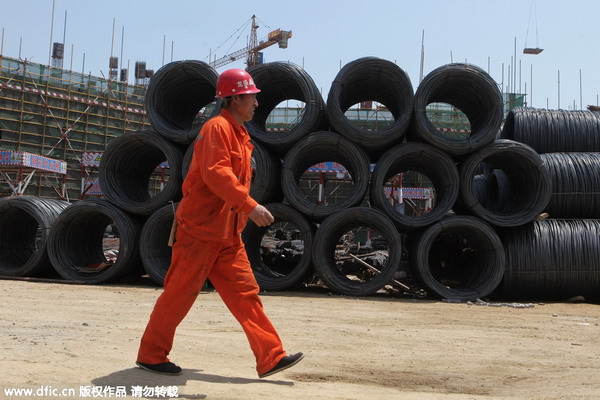 A Chinese worker walks past a stack of coiled steel rods on a quay in Rizhao city, East China's Shandong province, April 29, 2015. [Photo / IC]

The blast furnace will cater to product requirements in Guangdong, say officials
Shanghai-based Baoshan Iron and Steel, or Baosteel, commenced trial operations at its steel project in Zhanjiang, Guangdong province, on Friday with its No 1 blast furnace going on stream amid concerns of a glut in the industry.
Work on the project began in 2013. The company said in a regulatory filing that the blast furnace has a capacity of 5,050 cubic meters, and will produce 4.1 million tons of molten iron every year.
Located in Donghai Island, the Zhanjiang steel factory consists of two blast furnaces, pier berths and other production and auxiliary facilities. Upon completion in September 2016, the base will be able to produce 8.75 million tons of crude steel every year, said the notice.
The trial production will last three to six months, which means the blast furnace will officially start operations next year, an unnamed company official told Caixin.com.
The Zhanjiang project was set up four years ago with a registered capital of 20 billion yuan ($3.7 billion).
Amid the market downturn and slowing economic growth, the Zhanjiang project is expected to boost market confidence and set a good example of phasing out old-fashioned capacity with state-of-the art and eco-friendly technology, said analysts.
Over the last couple of years, China's steel industry has been squeezed by oversupply and low profits. During the first six months of the year, 26 out of the 55 listed steel companies reported a loss, with the total losses reaching 10.69 billion yuan, according to Wang Guoqing, director with Lange Steel Research Center.
"Although the project is facing a sluggish market, its advanced technology and equipment will give Baosteel more competitiveness in terms of lower emissions and energy consumption, high efficiency," said Zhang Tieshan, a senior analyst with industry information site Mysteel.com.
"Compared to the Shanghai plant, the Zhanjiang project is closer to raw material supplies from Brazil and Australia, and is also more adjacent to its target market in Guangdong province and Southeast Asian countries," Zhang said.
According to Zhang, the shorter distance to raw materials and the end market will enable Baosteel to save a lot in logistics cost.
In Guangdong, the annual steel product demand is estimated at about 60 million tons. However, local steel mills can supply only about 10 million tons. Baosteel's Zhanjiang project will offer an alternative to local buyers, according to the Shanghai-headquartered steel-maker.