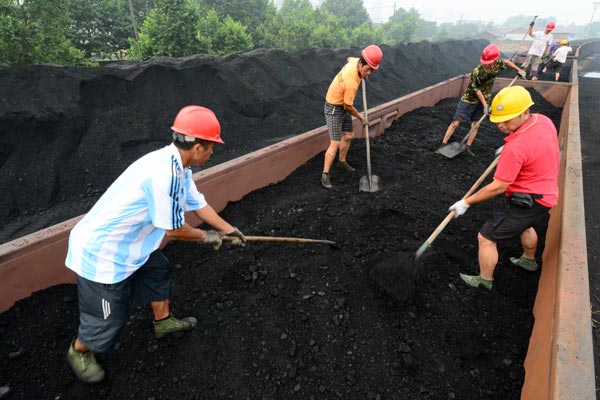 Coal is loaded into trucks at a railway station in Jiujiang, Jiangxi province. [Provided to China Daily]
BEIJING - Coal production in China, the world's largest producer and consumer of the mineral, declined 6.1 percent in the first four months this year as the impact of the government's clean air and renewable energy policies began to weigh on the industry.
Production totaled 1.15 billion tons between January and April, with the pace of decline accelerating from a 3.5-percent fall registered in the first three months of the year, according to data released Tuesday by the National Development and Reform Commission (NDRC).
Coal imports also fell during the period, plunging by 37.7 percent from one year earlier to 69 million tons, the NDRC said in a report on its website.
Coal consumption accounts for about 66 percent of China's primary energy consumption, 35 percentage points higher than the world average. The country aims to bring its share of non-fossil energy to 15 percent by 2020 and 20 percent by 2030.
China's coal output fell in 2014 for the first time this century as a result of slowing economic growth, government efforts to reduce air pollution and increased investment in renewable energy. Analysts expect production to further decline this year.