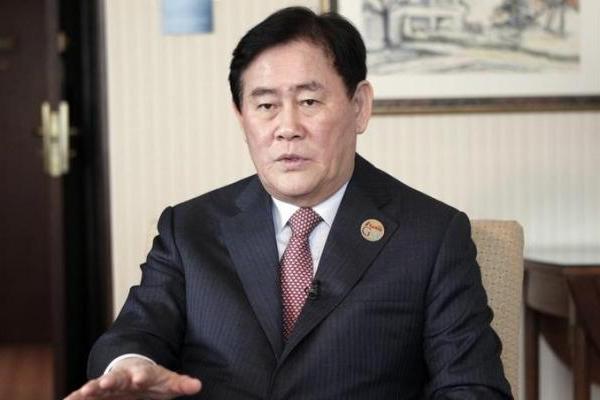 South Korea's Finance Minister Choi Kyung-hwan speaks during an interview with Reuters before the G20 finance ministers and central bank governors meeting in Istanbul February 9, 2015. [Photo/Agencies]  
South Korea called on Saturday for deeper cooperation with Japan on a China-led development bank, while Japan remained cautious about the lender, which it and ally the United States have held back from joining.
A meeting between the Japanese and South Korean finance ministers was "an impetus to deepen cooperative relations" regarding the Asian Infrastructure Investment Bank (AIIB), South Korea's Choi Kyung-hwan told host Taro Aso.
The Beijing-sponsored $100 billion lender is seen as a rival to the US-dominated World Bank and Japan-led Asian Development Bank. Japanese Prime Minister Shinzo Abe countered China's push on Thursday, announcing $110 billion in aid for Asian infrastructure projects over five years.
Aso and Choi "agreed on the importance of assessing enormous demand for infrastructure investments in Asia", including through Abe's new "Partnership for Quality Infrastructure", both countries said in a statement.
Choi, whose government expects a 4-5 percent stake in the AIIB, did not elaborate on the China-sponsored bank in brief remarks, or speak to the media after the meeting of the two officials, who are also deputy prime ministers.
Asked about Choi's reference to the AIIB, Aso told reporters only that he had explained Japan's position that it was seeking more details from China about the transparency and governance of the AIIB, which is scheduled to begin operations next year.
The United States and Japan were caught off guard when 57 countries, including Group of Seven members Britain, Germany and France jumped on board the AIIB bandwagon by March.
Aso and Choi pledged greater financial and economic cooperation, a bright spot in a tense relationship that has been marred by anger over Japan's approach to its wartime and colonial past, as well as friction over disputed islands.
While Abe has held two summits with the Chinese leader since taking office two and a half years ago, he has yet to get a one-on-one meeting with Korean President Park Geun-hye.