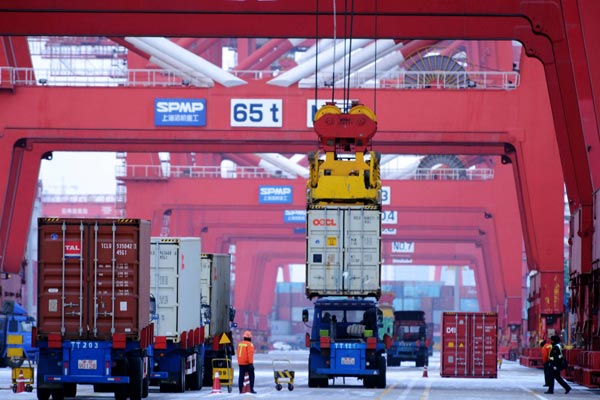 A ship loads containers at a terminal in Qingdao, Shandong province. China is poised to open up its market further to foreign investment. [Photo/China Daily]
Guidelines set to be published in April, focused on service and manufacturing sectors
China is cutting the number of industries in which it restricts foreign investment, in a move to further open up the market.
The new Catalog for the Guidance of Industries for Foreign Investment has gained approval from the State Council, China's cabinet, and will come into force from April 10, the National Development and Reform Commission said on Friday.
The guidelines, which guide an increase or decrease of the flow of foreign investment into certain industries, will make the service and manufacturing sectors more accessible.
Within manufacturing, the list includes the ethylene, papermaking, and electric transformation equipment industries, while for services includes the e-commerce, logistics, transportation, finance and culture sectors. The number of restricted sectors has been cut from 79 to 38.
Zhao Jinping, director-general of the Department of Foreign Economic Relations at the State Council's Development Research Center, said the move reflected a high level of openness and that the government is moving toward a management system based on negative lists, referring to the method of employing lists of only banned or restricted practices.
The negative-list management system has gained great traction after being promoted in the China (Shanghai) Pilot Free Trade Zone since its establishment in 2013, the country's first such zone.
The number of sectors in which foreign investment is restricted in the Shanghai zone was reduced to 139 last year from 190 in 2013. The length of this year's list is expected to be shorter again.
China attracted more foreign direct investment than any other country last year, worth $119.6 billion, up 1.7 percent year-on-year.
In a recent survey by the American Chamber of Commerce in Shanghai, however, three-quarters of the respondents believed that the city's FTZ offered no tangible benefits for their business.
Zhao said the Shanghai FTZ is still in the initial period and foreign companies will begin to gain more tangible benefits once related policies and measures are put in place.
He said some of Shanghai's practices, such as its innovative customs supervision model, are already being promoted in many other cities.
China has approved three new free trade zones in Guangdong province, Fujian province, and Tianjin municipality at the end of last year and is likely to approve more, largely based on the Shanghai model, in inland cities and border regions, said Zhao.
The NDRC solicited public opinion on revisions to the catalog in November.
Wang Dong, deputy director-general of the department of foreign capital and overseas investment under the NDRC, also said the new version shows the government's strong commitment to opening up and improving the investment environment for foreign investors.
Of the other favored sectors within the new guidelines, modern agriculture, high technology, advanced manufacturing, energy efficiency and environmental protection, new energy and the modern service industries.