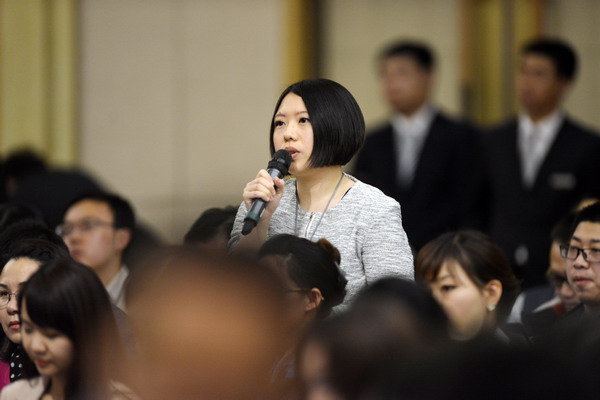 Reporter with China Daily asks a question at a news conference held on March 5 during the ongoing two sessions. [Wei Xiaohao / chinadaily.com.cn]
No strong economic stimulus measures expected
Xu said China will not introduce strong stimulus measures to prop economy as this year's growth target has been lowered to around 7 percent.
Xu, however, underlined importance of investment, which he believes continues playing a key role in promoting Chinese economy.
Internet regulations "in line with" international practices
China's recent regulatory measures on the Internet are in line with international practices.
"Development of the Internet requires regulation," Xu Shaoshi, said at the conference on the sidelines of the ongoing National People's Congress annual session.
Xu advocated a fair and orderly development of the Internet in China, which has the world's largest netizen population of 649 million.
Xu's comments came one day after China justified the drafting of its first counter-terrorism law, which was criticized by US President Barack Obama, who claimed that one of the articles of the draft law requires the technology firms in China to hand over encryption keys, the passcodes that protect data.
Beijing has slammed Obama's accusation, saying that domestic legislation is something within one country's sovereignty.
Xu said he was not worried that China's Internet regulation will affect any law-abiding companies.
"We will better regulate the Internet and support its development in China," he said.