The Chinese mainland has been a battleground for foreign chain stores for years as the country boasts one of the largest markets in the world. Its total retail sales increased 13.1 percent year on year in 2013 to 23.44 trillion yuan ($3.75 trillion), the National Bureau of Statistics said.
Let's look at the largest foreign-funded chain stores in the mainland measured by revenues, according to a list released by the China Chain Store & Franchise Association.
No 10 Lotte Mart
Lotte Mart is an East Asian hypermarket that sells a variety of groceries, clothing, toys, electronics and other goods, with headquarters in Japan and South Korea.
In 2013, the company's estimated revenue totaled 15.5 billion yuan in the Chinese mainland, down five percent year on year. By the end of 2013, the company had 110 stores here.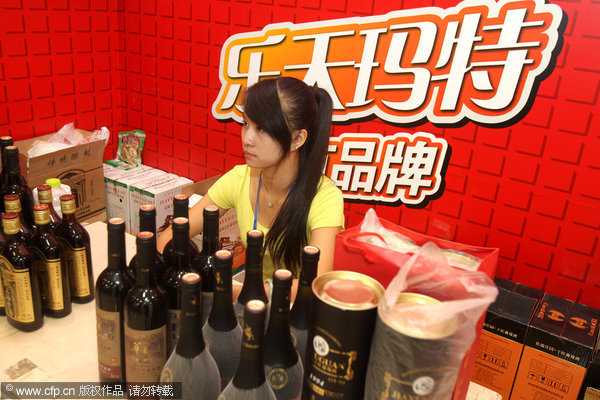 A girl sits at a wine promotion booth in a Lotte Mart supermarket in Nantong, Jiangsu province, on September 28, 2012. [Photo/IC]