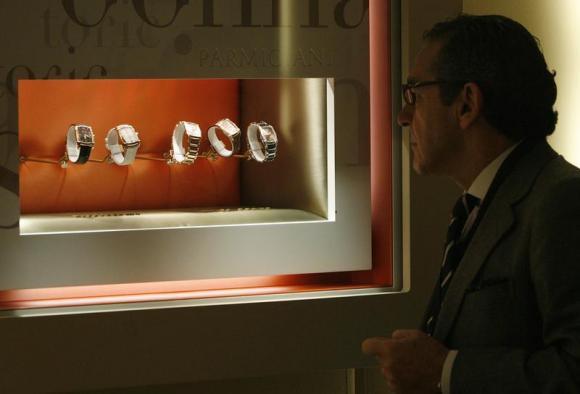 A visitor looks at watches at the Parmigiani booth during the opening day of the 'Salon International de la Haute Horlogerie' at Palexpo in Geneva, January 19, 2009. [Photo/Reuters]
Swiss luxury watchmakers predict the market will grow this year, expecting rising demand from North America and Europe to more than offset slowing sales to China.
Independent watchmakers Audemars Piguet, Parmigiani, Greubel Forsey and Richard Mille, told Reuters at an industry show they were expecting higher sales in 2014 than last year.
The Chinese government's crackdown on the use of luxury goods as bribes and illegitimate gifts has hurt sales of luxury watches in the Chinese mainland, the third largest market for Swiss watch exports.
"The biggest dark cloud on the horizon is a potential Chinese bubble, we don't know if it's going to burst or not," Jean-Marc Jacot, head of independent high-end watch brand Parmigiani told Reuters in an interview on Tuesday.
"We'll all be hit terribly if something happens in China, let's hope the Chinese government keeps things in check," he said at the SIHH watch fair that unites Richemont brands and a handful of independents in Geneva this week.
Hong Kong and Chinese mainland together accounted for about a quarter of Swiss watch exports. In the eleven months to November the total market was worth 20 billion Swiss francs ($22 billion). Exports to these two markets fell 6 and 15 percent, respectively, in that period.
Exane BNP Paribas analyst Luca Solca said he estimated that the luxury watchmakers were vulnerable to a slowdown because sales in China, as well as to Chinese tourists overseas, generated half of their revenue.
Richemont, which owns the Cartier brand, said last week that its sales in China were still in negative territory in the three months to December, while Swatch Group was more optimistic, saying its Omega brand was about to recover in China.
Vacheron Constantin's CEO, Juan-Carlos Torres, said many watchmakers took buoyant Chinese growth for granted.
"You have to go slowly in China and work for the long term. We did not only go to first-tier cities, but also to second- and third-tier cities with local retail partners," Torres said, adding this would help the brand grow sales in China this year.
Watchmakers said the second biggest market for Swiss watches, the United States, should see a tepid recovery gather momentum this year. Exports rose 2.4 percent between January and November last year.
Jasmine Audemars, chairwoman of Audemars Piguet, the biggest independent watchmaker at the fair, said the brand was doing well in the US market and things should get better.
Parmigiani's Jacot said: "The United States (is) coming back, this year we'll see the real rebound."
Overall, Audemars Piguet is expecting single-digit growth this year, while Parmigiani expects to grow about 15 percent after 17 percent last year. Richard Mille, another high-end player, is aiming for 150 million Swiss francs ($165 million) in 2014 sales after 132 million in 2013.