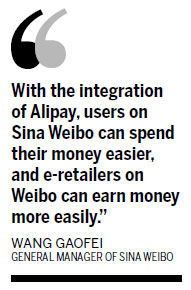 Sina Weibo, a popular micro-blogging platform in China, and Alipay, a leading e-payment provider, joined forces Tuesday to declare war on rival service WeChat, an increasingly influential mobile chatting app owned by Tencent Holdings Ltd.
The team-up of Sina Weibo and Alipay, the e-payment arm of China's Alibaba Group Holding Ltd, should boost social e-commerce, which lets micro-bloggers easily buy products that are posted by their friends.
With Alipay integrated into Sina Weibo, users on Sina Corp's Twitter-like Weibo platform can connect their Alipay accounts with their Weibo accounts and buy items without having to log in. And after making a purchase, users can choose to share their orders with followers on Weibo.
The team-up aims not only to boost user loyalty to Sina Weibo but also to expand Alipay's business into a new territory.
But, say industry experts, the ultimate goal is to create a powerful weapon that poses a threat to WeChat's rising status among China's smartphone users.
The cooperation between the two companies is a huge step following Alibaba's $586 million purchase of an 18 percent stake in Sina Weibo last April.
Sina Weibo, which claims more than 500 million registered users and more than 60 million daily active users, had been considered the most popular social media platform in China before WeChat's ascendancy.
According to Tencent's financial report in the third quarter of 2013, the combined monthly active users of WeChat's users, both inside and outside China, rose 124.3 percent year-on-year to nearly 272 million.
WeChat launched an integrated payment function last year that drew the attention of Alibaba.
The payment function let WeChat expand into mobile e-commerce, an emerging market that is widely viewed as the future of e-commerce
"With the integration of Alipay, users on Sina Weibo can spend their money easier, and e-retailers on Weibo can earn money more easily. Bringing convenience to users and online merchants is a value we want to embrace," said Sina Corp's Wang Gaofei, who is also Weibo's general manager.
But Fan Zhiming, the president of Alibaba's small and micro-financial services unit, who oversees the operation of Alipay, was more outspoken about the goal of the cooperation.
"The obsession with WeChat is a disease," Fan said at Tuesday's news conference in Beijing.
"Sina Weibo has more than 500 million users, and Alipay has more than 100 million mobile phone users. We look forward to the year of 2014, in which there will be a bruising battle between Weibo payment and WeChat payment."
Alipay and Weibo also are integrating their quick-response code systems to allow for better online-to-offline shopping experiences.
In the future, Weibo users will be able to scan QR codes displayed on their smartphones to buy products offline - for example, at vending machines or store registers.
Li Ye, an analyst with Beijing-based research firm Analysys International, said Sina Weibo's teaming up with Alipay is a win-win for both companies.
"It will drive up the number of active users of Sina Weibo and further improve the monetization of the social media."
"Through the cooperation, Alipay will certainly become more social and more mobile, which will help expand its user base and lay a solid foundation for online-to-offline business, a strategic priority for Alibaba."
She said it is still too early to tell whether the cooperation will have an impact on WeChat.
But Tencent may already have given its answer.
According to unnamed sources, Tencent is said to be investing in JD.com, China's second-largest e-commerce player after Alibaba.