New legal era for Shanghai trade zone
Move aimed at 'seamless transition' ahead of official launch on Sunday
The municipal legislature of Shanghai on Thursday endorsed the legal framework for the China (Shanghai) Pilot Free Trade Zone, paving the way for the official launch on Sunday, when the first batch of new laws and regulations are expected to be announced.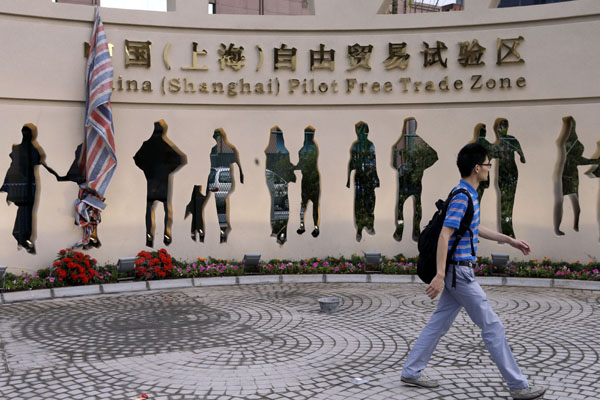 The name plate of the China (Shanghai) Pilot Free Trade Zone on a gate of the Waigaoqiao free trade zone in Shanghai. The pilot FTZ is expected to be officially launched on Sunday.ZHAO YUN / FOR CHINA DAILY
The Standing Committee of the Shanghai Municipal People's Congress said in a statement that it decided to adjust some of its local regulations and suspend the 1996 Regulations on Examination and Approval of Foreign Investment Enterprises of Shanghai Municipality, which are expected to be superseded by the new zone's regulations.
The statement said that the suspension wouldn't create a legal vacuum, because every effort would be made to ensure a seamless transition.
Foreign business executives said they welcomed the proposed changes and looked forward to an even more efficient regulatory environment.
Calling the general business environment the top factor in attracting foreign investment, Anders Paulsson, a partner at the Shanghai-based consulting firm SmithStreet, said the FTZ is expected to provide more business opportunities.
"Foreign enterprises will be given pre-establishment national treatment — treated the same as Chinese companies. Foreign investment will also be evaluated with a 'negative' list approach as opposed to a 'positive' list approach," said Jian Chang, an economist at Barclays China.
In a "negative" list approach, any industry that is not on the list is open to foreign investment.
"This new approach would greatly simplify the process because few industries are expected to be on the negative list," said Chang.
Although the ban on foreign capital in such industries as telecommunications is unlikely to be lifted, Yang Yuyi, an attorney at the Jingtian & Gongcheng Law Firm's Shanghai branch, said that the review and approval procedures for other sectors, including healthcare, have become more open and easier for foreign capital. It can be assumed that the FTZ will offer even easier procedures, she said.
Related Readings

Pilot FTZ to build open economy


US firms pin hopes on financial liberalization


Promising outlook for foreign banks in FTZ


Zone to speed up SMEs' changes