China Mobile launches app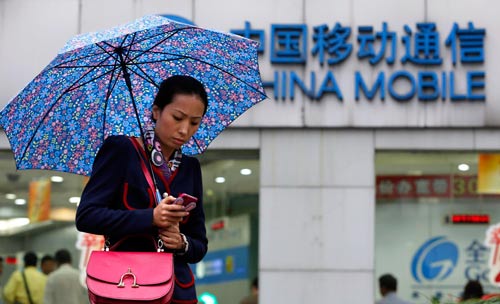 A woman uses her mobile phone in front of a China Mobile office in Shanghai. [Photo / Agencies]
Jego aims to challenge Skype by offering overseas VoIP services
China Mobile Ltd, the world's biggest telecom operator by subscriber base, has developed a new application called Jego to challenge rivals such as Microsoft Corp's Skype service.
The app mainly targets overseas customers, allowing them to make free or low-cost calls to mobile phones and landlines. Jego was launched on June 1 and can be used on mobile devices running Apple Inc's iOS operating system or Google Inc's Android platform.
Analysts see China Mobile's move as "a necessary step to explore the international market".
Because of the prices of long-distance calls, an increasing number of customers have switched to voice over Internet protocol, or VoIP services, thanks to the efforts of companies such as Skype, said Fu Liang, an IT industry insider in Beijing.
Due to their huge number of users and sound networks, Chinese telecom carriers have a chance to grab market share from existing market players, Fu said.
China Mobile International Ltd, a China Mobile fully owned subsidiary based in Hong Kong, is responsible for operating the Jego service.
Derick Li, a business development manager at CMI, was quoted as saying in a Next Web report that Jego targets international users, namely anyone that needs to stay in touch with friends and family in China.