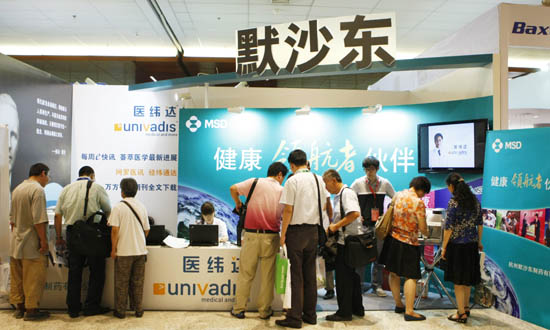 Booths set up by Merck Sharp and Dohme Corp and Univadis at the China Health Forum in Beijing in August. [Photo/China Daily]
Companies should learn to shoulder risk and make sacrifices, expert says
It used to be that Chinese companies that shipped merchandise overseas considered themselves to be international businesses and foreign companies would say they had come to China if they sold products or services in the country.
Such distinctions, though, are becoming blurred in the pharmaceutical industry as more domestic and foreign companies take to not just selling products across borders, but also conducting research and development with each other.
Xiang Jun, pharmaceutical researcher of Forward Business Intelligence, said China's pharmaceutical R&D outsourcing market was worth roughly $4 billion in 2010, making it one of the largest in the world. And it has been growing at an annual rate of about 25 percent in recent years.
"R&D projects being conducted by Chinese and foreign pharmaceutical companies, even though no specific statistics are available now, are developing faster than the outsourcing sector," Xiang said.
Joint efforts
Jean-Christophe Pointeau, president of Bristol-Myers Squibb China, said the company conducted 17 clinical drug trials in the country in 2010. And from that year to 2012, a total of 37 clinical trials, involving research and development for 15 new compounds, are to be carried out in China. All of them either have been pursued with local assistance in one form or another, or will be.
The Jiangsu-based Simcere Pharmaceutical Group deems itself an international company. Not only has it been listed on the New York Stock Exchange, but, more importantly, it has formed R&D partnerships with companies such as Epitomics Inc, OSI Pharmaceutical Inc, Merck Sharp and Dohme Corp - known in the United States and Canada as Merck & Co - and Bristol-Myers Squibb.
In contrast, Michel Vounatsos insists that Merck Sharp and Dohme China, of which he is chairman and president, is a Chinese company, noting that it works with Chinese scientists, medical institutions and universities.
Some of Merck Sharp and Dohme's other partners in the country include MicuRx Pharmaceuticals Inc, a biopharmaceutical developer of antibiotics used to treat drug-resistant bacteria, and Cumencor Pharmaceuticals Inc, which is working to discover therapeutic agents to treat multi-drug-resistant tuberculosis.
Such collaborative R&D is helping foreign pharmaceutical companies enter the Chinese market, according to Song Ruilin, executive president of the China Pharmaceutical Industry Research and Development Association.
That market happens to be the fourth largest in the world, being the source of $46 billion for the business last year, said the healthcare market researcher IMS Health Inc. IMS has also said it expects to see the Chinese market grow by 20.1 percent a year until 2015, when it will attain a value of $110 billion and become the second largest in the world.
"In the past decade, the majority of the cooperative projects were outsourced developments undertaken by Chinese partners with the use of contracts that mainly pertained to clinical studies and trials," he said. "Now, more and more projects concern early-stage research, including the development of compounds and small molecules."
An increasing number of local scientific institutes and universities are contributing to the partnerships, offering services related to the specialties of their research teams and labs.
At the end of 2011, Merck Sharp and Dohme revealed plans to invest $1.5 billion in R&D in China over the course of five years.
Some of the money was to go to building the company's Asia R&D headquarters in Beijing and some of it to a collaboration with its local partners, according to Peter Kim, president of Merck Research Laboratories.
The company already has a research center in Shanghai and has signed development agreements with entities such as the Beijing Genomics Institute and China National Pharmaceutical Group Corp.
But more partners are being sought. Kim said the new R&D center is expected to help Merck Sharp and Dohme work with more national-level and first-class research bodies and universities - such as Peking University, Tsinghua University, and the Chinese Academy of Sciences' Beijing Institutes of Life Science. He added that early-stage research in Beijing will form an important part of Merck Sharp and Dohme's global R&D network.
Another international drug maker, Bayer HealthCare, the medical arm of Bayer AG, has been working with Tsinghua University to expand its joint research program in a way that will lead to discoveries of innovative drugs. The company's current priority is on structural biology projects in which university scientists work with Bayer engineers to ascertain the three-dimensional protein structure of biological molecules and use that knowledge in drug development.
What do foreign companies most like about China? Many say it is the fact that the country is home to a large number of engineers who possess strong research abilities, as well as the country's large clinical database, said Lydia Xu, a pharmaceutical researcher with the Samsung Economic Research Institute.
Financial strength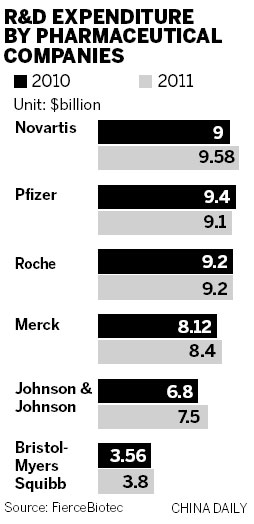 As is well known, China is no longer a poor country and business partners here now have large amounts of money they can contribute to projects. Some domestic drug makers have tried to set up R&D joint ventures with overseas partners in return for rights in the commercialization of new drugs.
In 2010, Bristol-Myers Squibb and Simcere formed a "strategic partnership" to develop anti-cancer medicine before they shifted in 2011 to developing an oncology compound. In December, the two sides decided to expand their partnership further and develop another compound to target cardiovascular diseases.
According to their agreement concerning the cardiovascular compound, Simcere will have the exclusive right to develop and commercialize the molecule in China and Bristol-Myers Squibb will retain both the intellectual property rights for the molecule and the commercial income derived from selling it in all other markets.
Simcere will perform and pay for the initial development work. The two companies will also adopt a plan to explore the possibility of using the compound to treat diseases.
"We have been committed to building up our R&D capabilities and are willing to invest significant financial and human resources (in China)," said Zhang Yehong, Simcere president. The Chinese company, which was founded in 1995, invests between 7 and 8 percent of its sales in R&D every year. It now employs nearly 400 R&D staff members and they make up 10 percent of its total employees.
Ji Xuwo at CITIC Securities Co said Chinese pharmaceutical companies are ready and willing to invest money and contribute expertise to Sino-foreign R&D projects, noting that those companies are becoming stronger and receiving policy support from the central government.
During China's 11th Five-Year Plan (2006-10) period, the value of sales in the country's biopharmaceutical industry increased by 272 percent. In the first three quarters of 2011, the sales value reached 109 billion yuan ($17.47 billion), exceeding the figure for the entire year of 2010, said a report conducted by the Samsung Economic Research Institute.
The biopharmaceutical industry is one of seven strategic industries that the Chinese government pledged to support in its 12th Five-Year Plan (2011-15). China plans to become a research hub in the international pharmaceutical business.
Risk sharing
Although joint R&D projects are becoming much more common in China, insiders said they require huge investment and carry high risk.
It's common knowledge in the industry that developing a new drug costs about $1 billion and that developing a molecule into medicine requires about 12 years of work. The process entails culling potentially ideal drugs out of millions of candidates and then selecting some for clinical trials. In the end, only 5 to 10 percent of the clinical candidates win regulatory approvals.
Xu said companies should prepare themselves to shoulder these risks and make sacrifices. She also said many managers find it difficult to get local and foreign staff members to cooperate, especially given the cultural differences that exist between foreign companies and their domestic counterparts or academic institutions.
Insiders, meanwhile, worry about Chinese companies' ability to protect their interests in joint R&D projects.
"Multinational companies usually have long histories and experience in mergers and acquisitions and in business negotiations," said Ji from CITIC. "Chinese companies, in contrast, are generally very new to the industry and should be cautious."
Zhang at Simcere said a prerequisite of Simcere's cooperation with Bristol-Myers Squibb was ensuring the companies could trust each other and had common interests. Zhang also said he doubts it would be easy to export Simcere's products without the channels offered by foreign companies such as Bristol-Myers Squibb.
liujie@chinadaily.com.cn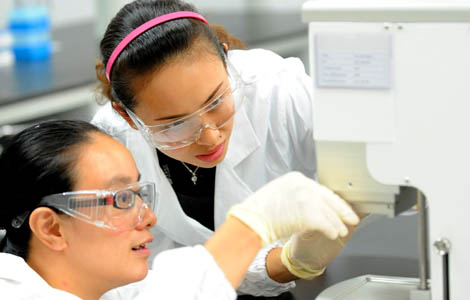 Staff workers at Merck Senoro conduct an experiment in the company's laboratory in Beijing. [Photo/China Daily]