Ed Sbragia, Beringer's winemaker emeritus, is enjoying his golden years by tending to his own winery and giving master classes, including one at this year's Vinexpo in Hong Kong. Rebecca Lo joins him for drinks.
At the biannual Vinexpo wine fair in Hong Kong, there were a bewildering number of master classes hosted by esteemed names in the business. Pre-registered already, I made my way to Beringer's 2006 Private Reserve and Single Vineyards parallel tasting, hosted by Ed Sbragia, the Californian winery's sixth winemaker since its founding in 1876.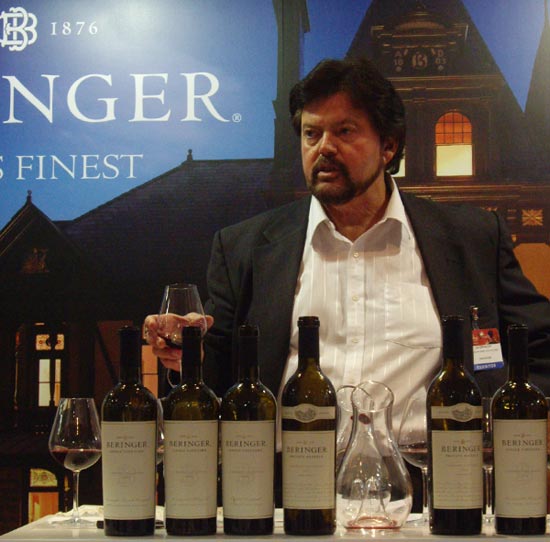 Ed Sbragia talks about cabernet sauvignon at Beringer. [Photo / China Daily]
I am the last person to arrive, and squeeze into the only chair available while trying not to disturb any of the glasses on the narrow table in front of me. A quick scan around the room reveals that it is filled with black suits - sommeliers, buyers and wine journalists - with glasses filled, ready to soak up the master's words of wisdom.
Sbragia starts with an overview of Beringer's vineyards, and it quickly becomes apparent that he is a man of the earth. "Beringer has always owned its own vineyards," he explains. "We have a total of seven between two mountain ranges: Mount Veeder and Howell Mountain. We live and die by how good our grapes are."
These are the words of a man whose reverence for the soil that yields his livelihood is partly why his wines are so successful. To date, Sbragia is the only winemaker to be awarded Wine Spectator's Wine of the Year Award for both a red and a white: his 1986 Private Reserve Cabernet Sauvignon and his 1994 Private Reserve Chardonnay.
Academically top notch with a chemistry degree from The University of California at Davis and a master in enology from California State University at Fresno, winemaking is in Sbragia's blood. His grandfather worked in the Californian vineyards after emigrating from Italy and his father was a winemaker who taught his son the importance of good grapes and good techniques.
Sbragia first joined Beringer in 1976 after working for Ernest and Julio Gallo (E&J Gallo). He was hired by Myron Nightingale, the man responsible for modernizing the entire Beringer production process and expanding the family's vineyards in the early 1970s. In 1986, Sbragia began to mentor Laurie Hook, working side by side with her on successive harvests until she was appointed chief winemaker in 2008.
"I've passed on the baton to Laurie," says Sbragia. "I'm now making fewer and fewer decisions." However, that doesn't mean that he has stepped back from winemaking. On the contrary, he is focusing on his own label Sbragia Family Vineyards.
He works with his son Adam on winemaking, while younger son Kevin can be found in the cellar during harvest. Sbragia's wife Jane and their daughter Gina help out in the tasting room on his property overlooking Dry Creek Valley in Sonoma County, California, which is northwest of Healdsburg where his father had his vineyards.
"I have 45 acres of my own property in Sonoma Valley," says Sbragia proudly. "We started our winery there in 2006. There are great restaurants around every corner, and it's natural for our wine to partner good food. We like to offer experiences rather than tastings. For example, I conduct a talk where people try the same wine after tasting lemon, apple, salt and creamy cheese."
Sbragia waves aside arguments that - generally speaking - New World wines are designed to be drunk immediately and don't age as gracefully as Old World ones. "I just had a 1977 California Cabernet Sauvignon that was very good, with lots of character," he says.
"For awhile, it was just about the numbers - producing to meet domestic market demands. Now, we pay more attention to detail than ever before. We are more in tune with the whole process, from the soil to growing the wine. It's a continuum."
Sbragia firmly believes in making wine that he likes to drink - which means that he makes Sauvignon Blanc, Chardonnay, Merlot, Zinfandel and Cabernet Sauvignon.
"In Napa, we are known for our Chardonnays and Cabernet Sauvignons. Only recently have we started seeing Semillons, Pinots and Sauvignon Blancs," he says. "I've been making Cabernet Sauvignons for 35 years. I love Cabernet Sauvignon. I love big Chardonnays! I love sitting on my terrace with a glass in hand and looking at the view, with my wife and family by my side."