Consumer preferences give boost to names that aren't well-known
When Sun Sisi planned to buy a new handbag, the 27-year-old Beijing office worker, who already owns some LV and Chanel handbags, turned her focus to niche brands this time.
"I am tired of the big names, and it is more important that I do not want a bag that many people on the street already have," Sun said.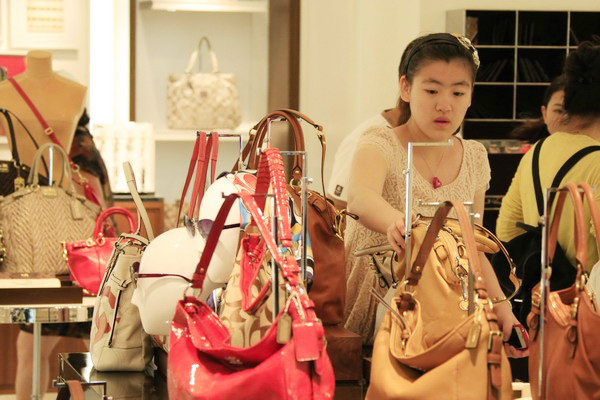 Shoppers select bags at a duty-free store in Sanya, Hainan province. Luxury, but without showing off, is what Chinese consumers look for now. [Huang Yiming / Asianewsphoto]
Related reading: 
Rentals of top-brand goods
Luxury goods become less popular as economy slows
Chinese luxury goods can't compete with foreign brands
Sun is not the only one thinking this way in China's big cities.
Luxury, but without showing off, is what Chinese luxury consumers are looking for now, especially in cities like Beijing and Shanghai.
The luxury consumers' new preference has helped some niche brands, which are not well-known, to grow fast in China, while some mass-market brands are seeing slower growth.
Burberry Group PLC, which recently released its trading update for the three months through June 30, said its revenue growth in the Asia-Pacific area dropped to 18 percent from 67 percent in the same quarter of 2011.
Gucci brand's sales in the Chinese mainland increased by 17.2 percent in the first half of 2012 compared with the same period of 2011.
Meanwhile, leather-goods maker Bottega Veneta, which targets an elite clientele and insists on no logo, had a 62.4 percent sales growth in the mainland during the period, according to the half-year result of PPR SA, which is the parent company of both Gucci and BV.
"Chinese luxury consumers are gradually giving up the brands, which the public is familiar with, and picking up the niche brands," said Zhou Ting, executive director of the research center for luxury goods and services at the University of International Business and Economics in Beijing.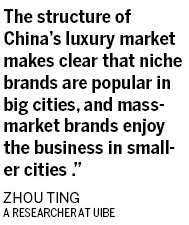 This is normal for luxury consumers in big cities, where the familiar brands' market is saturated, and price is no longer their concern, Zhou said.
"People in big cities start to look for the luxury items that are more suitable for them and different from others'," she added.
Twenty-six luxury brands attended the Sparkle Roll Luxury Brands Culture Expo in Beijing in early September, and most of them are not well-known by the public, like Parmigiani, DeWitt and Royal Asscher.
But the low publicity does not affect the brands' business in China.
Sparkle Roll Group Ltd, which is a distributor of most of the brands attending the expo, said that it sold 150 Richard Millie, 102 DeWitt and 319 Parmigiani watches in 2011.
The 571 watches produced HK$188 million ($24.25 million) in sales for the company, which means the average price of each piece arrived at about 270,000 yuan ($42,800).
The high price is not a problem for Chinese multimillionaires, who are searching for suitable luxury items on which to spend their wealth.
Jerome De Witt, founder of Montres DeWitt SA, an independent watch brand from Switzerland that he established in 2003, explained why a price of tens of thousands of dollars does not deter Chinese people from buying the watches.
"We contact with consumers directly and share experience with people," De Witt said.