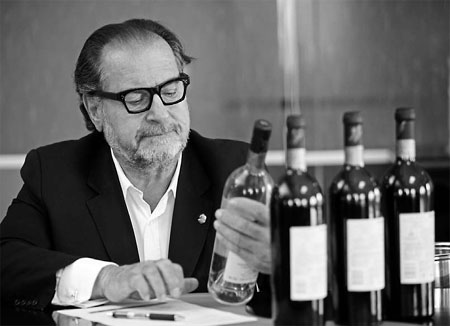 Michel Rolland says the land and climate are more important than the techniques to produce fine wines. [Photo/China Daily] 
If you want to become the best enologist, you first need to become the oldest enologist, jokes Michel Rolland. At 64, one of the world's best-known wine experts is perhaps not the oldest in the business, but he can lay claim to being the most experienced, having been virtually born with a wine glass in his hand. Nicknamed the Flying Winemaker, Rolland is now a consultant to 104 wineries in 13 countries in both the old and new worlds.
The wineries include those of the State-owned conglomerate Cofco Group - Sanggan and Huaxia in Hebei province in North China, and Junding in Shandong province, East China.
"China not only is destined to soon become the biggest wine consumer in the world, but also has the potential to become the biggest producer due to its vast land area and abundant labor force," says Rolland, who joined Cofco as chief consultant last August.
Asked why he decided to work with Cofco, the country's biggest food producer, Rolland first comes up with another stock answer: "If one has the opportunity to work with the No 1 company in an industry, who would choose No 2?"
But then, more to the point, he adds: "Cofco is purchasing chateaux around the world, which gives multiple soils for a winemaker to realize his many ideas."
The Chinese group already has a winery in Chile and in Rolland's native Bordeaux, and has been looking to acquire others, including in the United States, where he is a consultant to Robert Mondavi Wines and the Harlan Estate in California, and Chateau Saint in Washington.
Zhang Hui, Chinese technical director of Cofco's winery unit, says having Rolland was indeed beyond her expectations. She got another surprise when Rolland first visited a Cofco chateau and went directly to the vineyard dressed as a real farmer.
"I thought he would first go to the labs for tasting or viewing the winemaking process," Zhang says.
Instead, Zhang recalls, Rolland knelt down to examine the soil, picked off old leaves and demonstrated how to trim grape vines.
"He came to change our concept. We used to pay more attention to the winemaking techniques. Now we've realized the importance of good management of vineyards."
For Rolland, the terroir - the geography, geology and climate of a wine-growing territory - is more important than the techniques to producing fine wines.
"People may think enologists stay in the labs and workshops most of the time. But on the contrary, I prefer to work more in the vineyards, which guarantees good ripeness of grapes from A to Z."
He believes the characteristics of the terroir, including the soil, slope and position of the land, decide the quality and uniqueness of a wine.
"What enologists do is to respect the terroir as much as possible," he says.
In China, cabernet sauvignon, chardonnay and syrah grape varieties are grown at Cofco's vineyards, and Rolland's signature style as a winemaker is said to be fruit-heavy and oak-influenced.
Winemaking may be an industry steeped in ancient tradition, but Rolland, as an enologist from the old world, does not underestimate the value of modern technology and new techniques.
"If using science and technology can improve the quality of wine, then why not?" he says.
This was Rolland's sixth visit to China. He first came in 1996 and experienced his first taste of Chinese wines.
"I forget which brand it was. Certainly it was not the best wine I had ever tasted, but neither was it the worst. The taste was quite similar to the wine I've drunk in Argentina and South Africa."
What has impressed him most during his several visits to China was how quickly the industry has developed. However, he hopes the Chinese wine producing industry will take its time and grow slowly.
"Many wine producers, no matter they are in France, Italy, Portugal or Argentina, have all gone through a period of turmoil followed by a rapid advance. For me, the biggest challenge is how to help our team avoid repeating that happening in China."
No one doubts that the qualitative reputation of Chinese wines will improve under Rolland's guidance. The question is, will Chinese consumers drink good wines in greater number and on more occasions?
There has been a long historic acquaintance with wines in China, Rolland says, but there is no culture or habit of wine consumption.
"I've noticed that Chinese are gourmets. They have such an amazing variety of local cuisines, and they don't even have a standard preference for their cuisines. So I cannot predict the traits of Chinese preference toward wine."
Born into a Bordeaux winemaking family in 1947, Rolland grew up in the family's Chateau Le Bon Pasteur in Pomerol. He went to La Tour Blanche School of Viticulture and Oenology and graduated from the Bordeaux Institute. He was also mentored by legendary enologists such as Pierre Sudraud, Pascal Ribereau-Gayon and Emile Peynaud.
"I'm not sure whether I was holding a glass of wine in my hand when I was born, but wine has never been absent for even one day in my life. Many would ask me what wine means to my life, and I don't know how to answer it, just like I have no idea what I can do to make a living if I were not a winemaker."
Not surprisingly, among the countless fine wines that Rolland has made and tasted - including Premier Grand Cru Class chateaux such as Troplong Mondot, Angelus and Beau-Sejour Becot - his favorite remains Pomerol wines. It is just like people who love the local fare of their region or mum's home cooking, he says, believing it is much yummier than anything else.
"People's love of wine cannot be quantified. Once you fall in love with a wine, no matter how much it costs or what is on the label, it is good wine to you."
xiaoxiangyi@chinadaily.com.cn