South American country foments a big wine export drive to China
A beginning should be as good as it is simple. That's what Antonio Mompo, manager for Wines of Argentina in Asia, the South American country's wine export organization, had in mind when he set out to promote Argentinian wine in China.
"Argentine wine has a simple and fresh taste, which is easy to drink and caters to the Chinese sweet palate," Mompo said. He believed this simple and pleasant mouthfeel can help the Chinese develop the habit of drinking wine.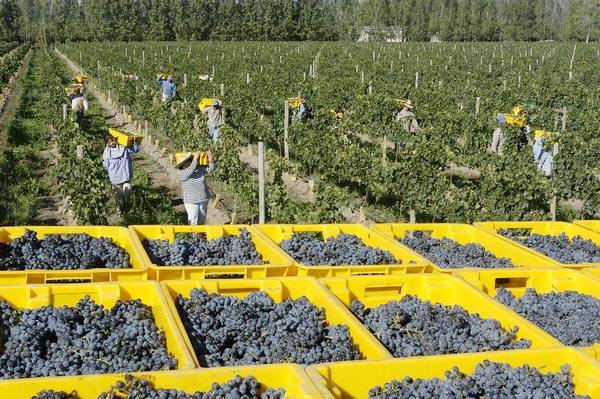 Farmers harvesting grapes in a vineyard in Mendoza, Argentina. The country's wine makers, the world's fifth largest producer by volume, are eager to try their fortunes in the Chinese market, although it appears now there is no one capable enough of challenging the French wine makers' position in China's wine market. [Photo/China Daily] 
Yet industry data seem to argue that the country has already become a confirmed wine drinker. A significant increase was seen in the country's wine supply over the past seven years: It surged from fewer than 400 million liters in 2004 to 1,400 million liters in 2011, according to a report by Rabobank.
In 2011 alone, bottled wine imports into China jumped by 65 percent from the previous year to 241 million liters, the strongest growth since the global financial recession in 2007/8, according to the report. Strong growth, huge potential and the ability to devour a large amount of premium wine make China one of the most important export markets for wine suppliers across the world.
France, among the foreign suppliers, continued to dominate China's wine market in 2011, growing volumes to more than three-and-a-half times that of Australia, its nearest runner-up, according to the Rabobank report.
Although there seems to be no one capable of challenging France in the Chinese market in the near future, competition among lesser rivals is still fierce. Being one of the newcomers, Argentine wine makers, currently the world's fifth largest producer by volume, are eager to try their fortunes in this bewilderingly complicated market as well.
New World wine
Just like many things in the New World, wine was brought to Argentina by immigrants from Italy and Spain in the late 19th and early 20th century. But whereas many New World wine-making countries, including Chile, New Zealand and Australia, exported most of their wine, Argentine people drank most of theirs at home.
At a certain point in time, each person in Argentina imbibed the equivalent of 90 liters of wine every year. The amount is around 30 liters nowadays. "When I was young, there were three kinds of drinks in the house: water, water with wine and wine - and the amount of wine was determined by the age of the person," Laura Catena, an author, cited an Argentina winemaker, a 90-year-old descendant of a wine-making family, as saying in her book Vino Argentino (Argentine Wine). The high level of domestic consumption helps explain why the world remained unfamiliar with Argentinian wine until about three decades ago.
The turning point, brought about by a man named Nicolas Catena, Laura Catena's father, came in the early 1980s. An economist by training, Nicolas Catena, determined to challenge Europe's position, launched a revolution in the central area of western Argentina's Mendoza region, which now produces 70 percent of the nation's wine.
After studying viniculture, Nicolas Catena found in Mendoza the cool climate that was typical of the world's most famous wine regions by planting at higher elevations. Sheltered by the Andes Mountains from Pacific rains, the coolness and low precipitation allow vines to ripen slowly and retain acidity, allowing resultant wines to develop heightened aromas and complex flavors.
Malbec, the most famous wine grape varietal, is another key factor in Argentina's rise to becoming a major winemaker in the world. The Malbec grape, one of five Bordeaux varietals (the others are Merlot, Cabernet Sauvignon, Carberet Franc and Petit Verdot), used to be very popular with French wineries. Unfortunately, the emergence of phylloxera in the late 19th century, a disease caused by an aphid-like insect, wiped out the grape completely in its French homeland.
To the East
At the same time, brought over by immigrants from the Old World continent, the Malbec grape adapted successfully to Argentina's soil and sunny climate and was widely planted. Combining dark, ripe concentrated flavors with a rich and smooth texture, the Malbec grape soon became one of the fastest growing wine exports, winning world recognition for its second home.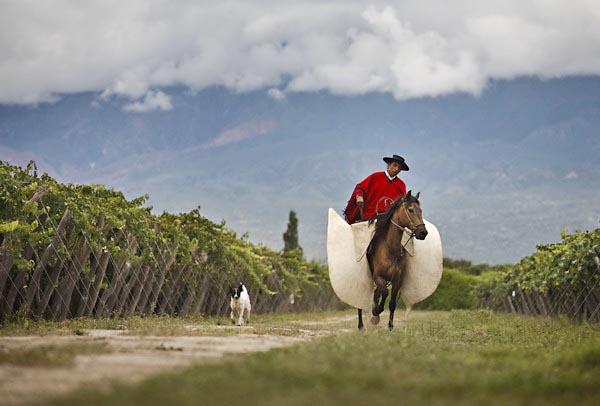 A horse-riding gaucho between vineyards in Mendoza, the winemaking area in the center of West Argentina that produces the majority of wine products in the country. Strong growth, huge potential and the ability to devour a large amount of premium wine are making China one of the most important export markets for wine suppliers across the world. [Photo/China Daily] 
Naturally, winemakers in Argentina expect Malbec to charm the Chinese just as it did in other markets. "Compared with European wines, Argentine wines have softer tannins and cleaner aromas, making it taste less aggressive," said the renowned Mariano Di Paola, head winemaker at Rutini Wines in Mendoza.