BEIJING - While China's retailers are welcoming shopping sprees for the upcoming Qixi Festival, some experts believe the public should view the Chinese Valentine's Day from a more historical perspective.
Qixi, which falls on Thursday this year, should be observed with a greater focus on its traditional connotations, said Xiao Fang, a professor at Beijing Normal University.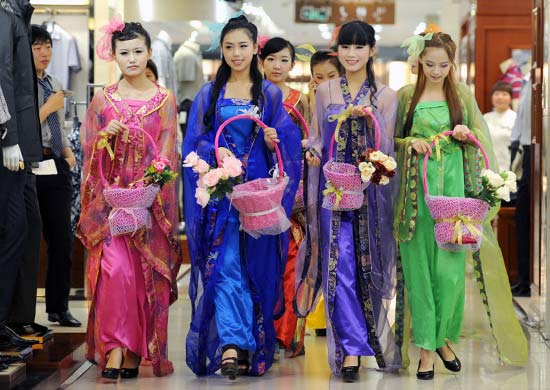 Photo shows promoters in costumes on Aug 23, 2012, in a shopping mall in Nanjing, capital of Jiangsu province. [Youyou / Asianewsphoto]
The Qixi Festival originates from a folk tale about a fairy named Zhinv who marries a mortal named Niulang. The marriage allegedly enraged the Goddess of Heaven, who created the Milky Way to separate them. Supposedly, the pair of lovers are reunited for a single night each year by magpies that fly into the heavens and form a bridge for them to cross.
Although the holiday itself was not celebrated until modern times, the festival was listed as a form of intangible cultural heritage by the State Council in 2006.
"Qixi is not China's Valentine's Day. We did not even have this concept in ancient times," Xiao said. "The story's reunification of Zhinv and Niulang is what has led people to associate it with love."
Xiao believes that many Chinese people, particularly the young, have lost sight of the historical and cultural references contained in the story of Qixi.
"People should see it not just as a day to celebrate love, but to remember the story's traditional cultural meaning," Xiao said.
Retailers, on the other hand, have embraced the holiday's romantic side, pitching sales for chocolates, roses and other goods commonly associated with Valentine's Day.
Many have used Sina Weibo, a popular microblogging site, to spread the word of their Qixi deals. Huawei, a major cell phone manufacturer, is running a contest on Weibo, asking customers to submit their most romantic microblog posts in exchange for prizes.
Fireflies have been trending online as a popular Qixi gift, with netizens describing them as "illuminating symbols of love," leading insect experts to express concern about potential harm being done to the bugs.
However, some have already tired of the hype and bombasticity surrounding the slew of advertisements and offers that come with Qixi each year.
Zhang Shuang, a woman from Erdos in North China's Inner Mongolia autonomous region, said she simply plans to have dinner with her husband during the holiday.
"There are too many festivals to celebrate now. Qixi is just another not-so-special one," Zhang said.