Energy, mining, agriculture are key sectors for outbound investment
China will shift its direct-investment focus, both foreign and outbound, to quality instead of quantity, an economic planning guideline said on Tuesday.
The National Development and Reform Commission, the country's top economic planning agency, outlined the nation's FDI and ODI development plan for the 12th Five-Year Plan (2011-15). The commission vowed to bring home advanced foreign technology, talent and management when attracting foreign capital.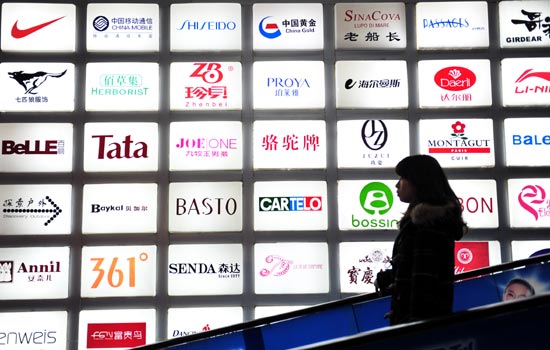 A wall of Chinese and international company logos in Nanjing, East China's Jiangsu province. A government policy document called for quality FDI, and encouraged multinationals to set up R&D, procurement and financial management centers in China. [Photo/China Daily]
To that end, China will encourage multinationals to set up regional centers, R&D centers, procurement centers and financial management centers. China will also encourage foreign companies to invest in advanced service sectors, such as modern logistics, software development, engineering design, consultancy and intellectual property service industries, the document said.
The country will strictly limit foreign investment in industries that consume a lot of energy and resources, and high-pollution industries.
"China is transferring from embracing foreign investment to selectively embracing foreign investment, in a bid to upgrade and improve the economy," said Huo Jianguo, president of the Chinese Academy of International Trade and Economic Cooperation.
The guideline acknowledged several hurdles to meeting this goal. One major problem is the inability to transform the large amount of FDI to China's own technological strength.
"In past years, the surging FDI preferred single ownership in China, which made the technology spillover effect hard to occur," Huo said. "Other joint ventures, targeting China's labor advantages or the consumer market, provided few chances for technology spillover."
Huo said China should ramp up its R&D ability and improve its innovation environment, which would help Chinese firms cooperate with foreign firms on technology.
The document said the government will guide foreign capital into healthcare, culture and tourism sectors, but will be more cautious in finance, securities and telecommunications.
Huo said there are still reservations within some service industries about opening to foreign capital.
"But I believe there will be breakthroughs during the 12th Five-Year Plan. We will see more openness and competition. After all, nearly half of foreign capital seeks to enter China's service sectors," Huo said.
While stressing attracting quality foreign investment, the document also urged improving the quality of outbound investment.
It said China will encourage investment in overseas high-tech and advanced manufacturing. The country will also seek to acquire foreign intellectual property rights through acquisitions, equity participation, joint ventures, and establishment of its own overseas R&D centers.
Energy, mining and agriculture are identified as the key sectors that Chinese investors are encouraged to invest in abroad.
Meanwhile, the document also noted difficulties facing China's outbound investment.
"As China's might increases, there is growing skepticism toward China's overseas investment and subsequent restrictive practices," the document said.
Political instability in some countries also raised the potential risks of China's investment, it added.
Zhang Jianping, a researcher with the Academy of Macroeconomic Research under the NDRC, said encouraging more private and small and medium-sized enterprises to engage in foreign investment is a way to counter the skepticism and restrictions, which China's State-owned enterprises often encounter.
"The government should offer more consulting for private firms and SMEs which aspire to invest abroad, and match up SOEs and private firms to jointly explore the foreign market," Zhang said.
zhengyangpeng@chinadaily.com.cn