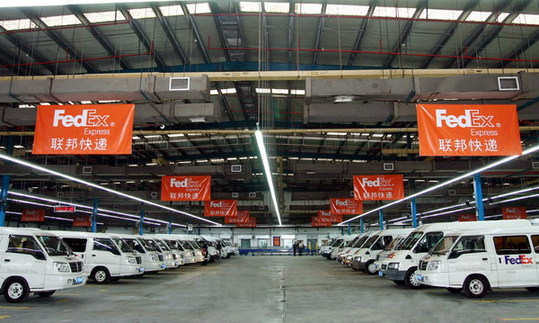 Although international logistics companies such as FedEx are eyeing a bigger slice of the soaring Chinese express delivery market, approval of domestic delivery services by foreign players is still pending. [Photo/Xinhua]
Approval of domestic delivery services by international logistics companies such as FedEx Express Corp and United Parcel Service Inc is still pending, clouding the prospects of foreign players that are eyeing a bigger slice of the soaring Chinese express delivery market.
In May, the State Postal Bureau published domestic license applications from two US-based couriers, FedEx and UPS. But the requests were partly thwarted by speculation that their access to the local market would pose a threat to national security.
A State Post Bureau spokesman said on Wednesday that it is still going through necessary procedures with the applications, and declined to make further comment.
Zhu Qingyu, a researcher with China Air Transport Association, has written two articles in the past month warning government departments and the parcel delivery industry of the potential risks posed by the licensing.
If UPS and FedEx are granted the licenses, they will have access to China's air, land and water transport systems to operate their parcel delivery businesses based on the Postal Law, he told China Daily.
"So the domestic package delivery license will actually open a door for them to legally use the country's transport infrastructure, which is connected not only to the national economy but also national security," he said.
Besides, there is not an "open skies" agreement between China and the United States. Were the licenses granted, the two companies, both headquartered in the US and deeply involved in the air transport industry with their big fleet of planes, will enjoy more air traffic rights in a disguised form, which is unfair to China, he added.
On June 21, the bureau's website released a list of enterprises, including FedEx and UPS, which were granted business licenses for domestic or international services this year. Many have misread it as a sign that the authority has given the green light to the US duo.
But Liu Jianxin, vice-secretary of the express branch of China Communications and Transportation Association, clarified that the US companies are only entitled to conduct international services, adding that their applications for domestic services are still being assessed.
FedEx is "patiently waiting for the approval and is working closely with the authorities as they process that application", Zhou Yalin, corporate communications manager of FedEx China, told China Daily on Wednesday.
"The June 21 notice on the bureau's website referred to the annual inspection of FedEx's existing permit to conduct international express operations. FedEx is conducting business as usual," Zhou said.
According to a written statement e-mailed to China Daily, FedEx started operating a domestic delivery business in China in May 2007, after having received an investment certificate from the Ministry of Commerce on Dec 8, 2006, and a business license for domestic services from the State Administration of Industry and Commerce on Dec 20, 2006.
But in 2009, the government introduced the Postal Law, restricting foreign enterprises' operations in the domestic postal business. The new law requires these enterprises to renew their operational licenses, covering domestic express parcel delivery, but excludes them from competing in the domestic document and letter delivery market.
While foreign companies are excluded from domestic deliveries on the legal front, in practice, FedEx is still running such business.
UPS was unavailable for comment.
The granting of licenses will provide a level playing field for foreign counterparts and is in accordance with the national treatment guaranteed by World Trade Organization rules, said Xu Yong, principal analyst of China Express and Logistics Consulting website, an independent logistics think tank.
"Even individuals and travel agencies in China can enjoy chartered flights. Why can't these services be extended to foreign companies, especially when they use Chinese flights," Xu asked.
The licensing will have nothing to do with aviation rights and national security, he added, as long as foreign couriers don't set up their own cargo companies in China.
The impact of granting the licenses will be more legal than practical, but there is the likelihood that the requests are turned down, said Hu Yue, a lawyer with Shanghai Jiehua Law Firm.
"There is no fixed timetable for government agencies to grant administrative permission, so all they can do is to wait," he said.
China's express delivery industry is expected to expand steadily over the next four years and have annual sales of 143 billion yuan ($22.5 billion) by 2015, the State Post Bureau estimated.
Contact the writers at hewei@chinadaily.com.cn and xindingding@chinadaily.com.cn