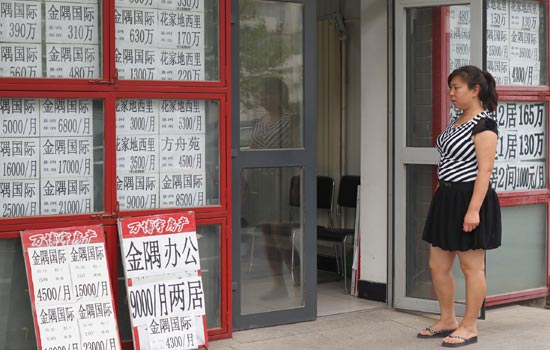 A real estate agent checks advertisements for secondhand housing in Beijing. Since May, there has been a rush in buying secondhand houses in the city, and this month, estate agents have reported insufficient supply. [Photo/China Daily] 
Central bank's rate cut leads to shift in view of potential buyers
The latest figures from the National Bureau of Statistics show that residential house prices declined at a significantly slower rate in May, triggering concerns over a short-term rebound in prices.
In May, of the 70 large and medium-sized cities monitored by the bureau, 43 cities' sale prices declined, there was no change in 21, and six saw an increase.
By comparison, in April, the same number of cities saw a decline, there was no change in 24 and three saw an increase, which means that three more cities were experiencing price growth and fewer cities were able to maintain price stability.
Beijing's housing index remained flat in May, bringing an end to four months of falling prices.
In other major cities such as Shanghai, Guangzhou, Shenzhen and Qingdao, although prices declined by 0.3 to 0.1 percent, the rate was slower than the previous month.
The bureau's index also showed that though the cities that registered a price increase saw growth of no more than 0.2 percent over the last month, the rate of decline was no more than 1.6 percent.
Xue Jianxiong, research director of China Real Estate Information Corp, assessing the results, said property markets in the eastern and western regions should be viewed separately.
In the three eastern and central cities that saw modest price increases - Tianjin, Dalian and Nanchang - this means the start of a recovery in the housing market.
However, in western cities that saw modest growth, such as Guiyang, Xining and Baotou, a recovery is less likely as the delayed impact of the economic slowdown takes effect.
But the statistics lag behind fast-changing realities.

Property sales offices and real estate agents in Beijing are already reported to be crowded with inquirers and buyers.
Since May, there has been a rush in buying secondhand houses in Beijing, and, this month, real estate agents reported insufficient supply.
Registered house purchases in Beijing in the first half of June reached 10,576, a growth of 46.5 percent year-on-year, according to the Beijing housing and urban-rural development bureau.
With increased turnover, prices have also risen. Property brokerage 5i5j Real Estate said that in the first half of June, the average residential house price hit 21,364 yuan ($3,364) per square meter, up 3.7 percent over the last month.
"Some homeowners who had planned to sell are now holding back. This is based on the assumption that, as the central bank cut the interest rate and more favorable policies are rolled out, house prices will surge," said a sales agent from Homelink Real Estate Beijing.
The central bank cut interest rates on June 7, the first such move in more than three years, after it lowered banks' reserve requirement ratio three times since November. The 0.25-percentage-point cut in the lending interest rate has reduced mortgage costs.
And it may also cut the lending costs for cash-strapped real estate developers, and has been described by the People's Daily, the flagship newspaper of the Communist Party of China, as "a shot in the arm".
Loosening credit, fine-tuning measures rolled out earlier by some local governments, and a recovery in house sales are increasing expectations that a pickup in prices is on the horizon.
"It seems that house prices and tightening policies have reached their bottom, so quite a few buyers are starting to panic again," the People's Daily said in an analytical report.
This is reminiscent of 2009, when prices doubled in several months after Beijing rolled out a 4-trillion-yuan stimulus package, the newspaper said.
Bad memories have already made some homebuyers increasingly impatient. Wu Yifeng, a 30-year-old marketing specialist in Shanghai, is one of them.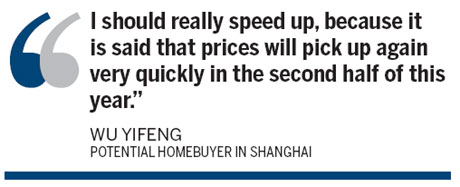 Wu said he started to search for his first apartment in May.
Since then, he had been frequently told that it would be best to buy an apartment in the first half of this year, as prices are at a "historic low". He said he currently has two properties in mind, priced between 28,000 yuan and 31,000 yuan per sq m.
"I should really speed up, because it is said that prices will pick up again very quickly in the second half of this year," he said.
Wu has reasons to worry.
A property in Jiading New City in northern Shanghai was sold for 13,000 yuan per sq m in December, and is now worth 14,500 yuan per sq m.
Another property in northern Shanghai's Nanxiang county saw its price rise from 14,000 yuan per sq m at the end of last year to the current level of 15,200 yuan.
Forward delivery housing prices also rose. Of the 76 projects in this sector, 21 projects, or 28 percent, closed at a higher price, according to Homelink Real Estate.
But given the two distinct markets mentioned above, Xue predicted that the National Bureau of Statistics' index will still go down in June and possibly July, while specific properties will see their prices rise as the market in Shanghai is about to bounce back.
Li Pinke, an analyst with Guotai Junan Securities, said first-tier cities may see slow growth, given limited supply and vigorous demand. But in second- and third-tier cities, high inventories will cap a quick rebound in home prices in the short term.
Li Shaoming, an analyst with China Investment Securities, agreed that house prices will see gradual recovery in the second half of this year. But a surge is less likely.
However, striking a balance between spurring real demand and preventing a price surge, a possible product of rush buying amid expectations of a price surge, poses a challenge to the authorities, according to analysts.
Beijing had earlier encouraged banks to offer lower mortgage rates to first-time buyers, and tolerated certain moves by some local governments to loosen real estate restrictions.
But with increasing cases of local loosening and surging sales, Beijing has started to show signs of caution, warning local government not to cross its "red line".
In early June, the Ministry of Housing and Urban-Rural Development denied domestic media reports claiming that the government was planning to loosen its real estate policy, emphasizing that policies targeting real estate speculation and price inflation would remain in place.
"On the one hand, we should continue credit and tax support for first-time homebuyers. On the other hand, various measures should be consolidated to curb speculative and investment demand," a ministry spokesman said.
Contact the writers at zhengyangpeng@chinadaily.com.cn and shijing@chinadaily.com.cn