Big need for mother-and-baby nurses
Updated: 2012-02-20 10:05
By Huang Ying (China Daily)
| | | | | | | | | | | |
| --- | --- | --- | --- | --- | --- | --- | --- | --- | --- | --- |
|   | | Comments() | | Print | | Mail | | Large Medium  Small | 分享按钮 | 0 |
Auspicious year for births will create stiff competition in the care sector
BEIJING - The Year of the Dragon is expected to lead to a baby boom because of the belief that children born in it will be endowed with good luck and have a propitious life.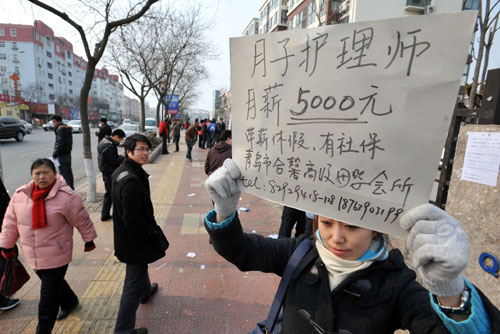 A woman holding a billboard in Qingdao, Shandong province, that states she is looking for confinement nurses with a monthly income of 5,000 yuan ($794) and other remuneration including annual paid leave and social insurance. Zhao Jianpeng / for China Daily 
As a result, demand has risen for confinement nurses (yuesao), who are responsible for taking care of new mothers and their newly born infants for a period of time, especially the first month after they give birth.
"The number of people asking for information about yuesao has surged since the start of the year," said Li Lin, a communications officer at Baby Care & Education Co Ltd, a maternity business.
"One of our clients even called to make a reservation for a confinement nurse in September," she added.
A confinement nurse is much more than a babysitter. She has to be in charge of the diet of both mothers and babies, the physical recovery of women after childbirth and care of babies mentally and physically.
"A confinement nurse is a combination of nurse, early childhood teacher and dietitian," said Cui Jingwen, general manager of Baby Care & Education Co Ltd.
Established in 2000, the company now has branches in more than 40 cities in China, including Shanghai, Harbin in Northeast China's Heilongjiang province and Hohhot, the capital city of the Inner Mongolia autonomous region.
Among their clients, 10 percent are expatriates living in Beijing and 20 percent are those who have had second babies.
"The foreign couples speak very fluent Chinese and have absolutely no trouble in communicating with our confinement nurses," Cui said.
Chinese people consider it is vital for mothers and newly born babies to have an experienced and professional confinement nurse taking care of them in the yuezi period because of their concerns over health. Yuezi refers to the first month after a woman gives birth.
Most confinement nurses are affiliated to household service agencies but have not signed official labor contracts. Only a small proportion are officially employed by these companies, something that has led to high turnover of workers in the industry.
"We've trained more than 1,000 yuesao in total throughout our development but only 200 to 300 of them are still working for our company at present," Cui said.
The pay of confinement nurses plays a dominant role in causing the turnover. Some leave an agency for a rival because the latter offers higher pay. They don't have to pay compensation because they were not in a contractual relationship with the business. Those with years of experience are most sought after.
In addition, the background of workers affects job mobility. A significant number of confinement nurses are from rural areas who go home immediately after having earned money.
"The operating costs of agencies would significantly rise if they employ these women workers because they will have to pay employee insurance fees. Further, rural women entered the industry simply in the hope of making money and don't want to end up living in the city," said a staff member surnamed Xu from China Home Service Association, who preferred not to be identified. He added: "That's why 90 percent of enterprises in the industry are intermediary agencies."
The cost of confinement nurses has been pushed increasingly high by the competition between household service agencies amid a growing demand for caregivers aged between 35 and 50.
The monthly pay of a confinement nurse was just 3,500 yuan ($555.56) at most in 2007. Last year the price surged three times, which propelled the figure to between 6,000 yuan and 9,000 yuan a month, Cui said, adding that a few individuals receive more than 10,000 yuan.
"New household service providers will bid a higher price for experienced practitioners because it helps them to gain market share," Cui said.
At Baby Care & Education, there are three levels of confinement nurses. Their pay ranges from below 5,000 yuan to 8,900 yuan a month, depending on quality of service and experience.
Many people saw the potential of the market and remain optimistic about the industry's prospects.
"As a baby boomer born after 1980, I realized that people of my generation are getting ready to give birth now. Many of my friends are demanding a good-quality confinement nurse," Yuan Weijia said when asked about her intention to open a high-end yuezi club to serve up to 31 clients in the Tongzhou district of Beijing.
Yuan is chairman of Better Care Confinement Club, which is scheduled to officially start operations at the beginning of March. Her full-time job is as vice-president of the capital market division at Deutsche Bank AG.
The threshold price for the service in Yuan's high-end yuezi club is 58,800 yuan and the highest is 288,800 yuan. The sums are based on the types of home clients have and the frequency of services they will have access to, as well as a subsequent medical service they are able to enjoy after they leave the club.
Unlike ordinary household service agencies, the club justifies its costs by only recruiting professional gynecological and obstetrics nurses or doctors with several years of practical work experience in hospitals with triple-A ratings from the national authority.
For example, the club's President Ren Yingchun, used to be the matron at Beijing Friendship Hospital, and have 35-year experience in the field.
For Baby Care & Education Co Ltd, in order to improve the professional skills of its employees, it offers a training course to both staff and those who haven't officially signed an employment contract with them.
"We invited a professor from Beijing Normal University undertaking research in early childhood education to give classes, as well as professional dietitians," Cui said.
"Currently, we have about 80 potential clients who have made inquiries by telephone. Their babies are due between March and September," said Gao Ang, general manager of Better Care confined club.
The company has established links with dozens of private and prominent public hospitals to promote its business. They include Beijing Friendship Hospital and Beijing Chaoyang Hospital.
A majority of household service agencies are in partnerships with hospitals. These networks enable agencies to have a greater chance of reaching potential clients, Xu said, adding that a significant number of customers will also contact agencies themselves based on their reputation.
Cui said her agency doesn't have partnerships with any hospital because some hospitals have their own nurses who are sent to take care of pregnant women as an extra source of income. "To a certain extent we are more like rivals than partners," she said.
Yuan said that before embarking on the business, she and her team conducted a lot of market research and industrial analyses.
"The emergence of high-end yuezi clubs in cities such as Shanghai and Shenzhen is a sign of market segmentation. Most of their operational management models are imported from Taiwan. Only rich people are able to afford their services," said Xu.
He predicted that high-end yuezi clubs will win a notable share of the market in the long run.
"I think it will be a booming industry and we will expand our business to more cities in the future," Yuan said.
Cui said: "The whole industry, if it can be called an industry, is in chaos, and calls for regulation desperately, but I think positively about its prospects."