Huge choice for pet owners to pick from
Updated: 2011-09-10 09:10
By Liu Lu (China Daily)
| | | | | | | | | | | |
| --- | --- | --- | --- | --- | --- | --- | --- | --- | --- | --- |
|   | | Comments() | | Print | | Mail | | Large Medium  Small | 分享按钮 | 0 |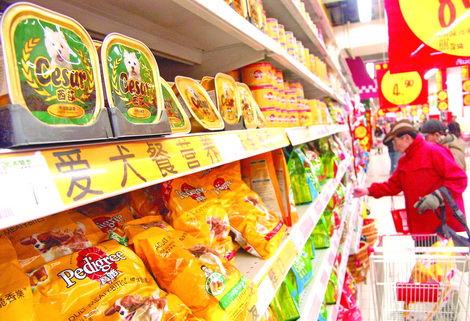 Pet owners in China now have dozens of brands of pet food to choose from. Quality and branding are often the key to success in the market.[Photo/China Daily] 
People in China are splashing out far more on their animals while food companies are cashing in
BEIJING - Rapid urbanization and changing lifestyles in China have increased the desire for companionship and spawned a boom in pet ownership and with it an industry that caters to the needs of pets.
Pet owners in China now have dozens of brands of pet food to choose from, ranging from snacks to full meals and a host of brands, foreign and domestic. With a plethora of choices available, quality and branding are often the key to success in an increasingly crowded marketplace.
Unlike in Western markets, the pet food industry in China is still nascent and dominated by big multinational companies such as Mars from the United States and Nestle from Switzerland. Together these companies accounted for more than 90 percent of China's pet food market up to 2005.
Neither Mars nor Nestle responded to requests for an interview.
Experts say this market structure has been changing rapidly in recent years, with domestic companies slowly flexing their muscles.
"Pet food brands from some Chinese producers now have the same quality as the ones produced by foreign companies but are sold more cheaply," said Zhou Jianfeng, a pet industry analyst from the US-based consulting firm Gerson Lehrman Group.
Zhou said the boom for pets has increased the demand for pet food and provided Chinese manufacturers with the right impetus for future development. "Chinese citizens raised nearly 150 million pets last year, but only 10 percent of them used processed food, indicating the enormous growth potential for the industry."
With an eye on the future, many Chinese companies are looking at teaming up with research institutions involved in pet food research in Europe, a region that accounts for 38 percent of the overall pet food consumption in the world. Such an alliance not only makes sense in terms of market outreach, but also in terms of quality improvements and development of niche products for the Chinese market.
Care Pet Food, one of China's largest pet food manufacturers based in Chengdu in Southwest China's Sichuan province, is one such company that has gained from these alliances.
Set up in 2000, Care Pet Food has forged a close relationship with a British food research center in Glasgow, Scotland, and recruited several professionals from overseas to staff its research and development team.
Li Zenggui, general manager of Care Pet Food, said with decades of development, the United Kingdom and other European countries have a great advantage in pet food nutrition research. However, Chinese enterprises know more about the living environment of Chinese pets and the demands of their owners.
"By combining these two strengths we can ensure that the pet food produced not only has a high nutritional value but also conforms to the requirements of domestic pet owners," he said.
"Despite their early entry, many foreign companies do not have research and development (R&D) centers in China and therefore lack first-hand knowledge of the Chinese market," Li said.
Li's company has so far enriched nearly 100 of its product categories and boosted annual production capacity to 30,000 tons. Care Pet Food had a 30 percent share of the domestic market for pet food last year and also started to export its products to Europe, Southeast Asia and other overseas markets.
"Although some of the big domestic brands had a quality gap with their Western counterparts a few years ago, many of them have since caught up with their peers and sometimes produce goods which are far superior both in quality and taste," said Li.
While alliances seem to be the most favored option, some companies prefer to tread a different path by incorporating the advantages of Chinese products and medicines.
Nory Pet, a pet food company established in 2002 in Shanghai, specializes in producing pet food with Chinese herbal medicine as one of its main ingredients.
The director of the company's brand promotion department, Yang Qingfeng, said the company's products are finding favor in the marketplace as discerning pet owners have started to realize that regular use helps alleviate the chronic health problems faced by most pets.
"Due to the widespread recognition of traditional Chinese medicine, the specialty products are selling well in China," Yang said.
Nory Pet had a 7 percent share of the domestic market last year and hopes to increase that to 10 percent over the next five years.
Yang said success in the domestic market has prompted the company to test overseas markets, but it has not done so because of the low brand recognition abroad.
"The pet food industry started relatively late in China and most of the domestic manufacturers are unknown in the overseas markets. This is a major obstacle for market expansion," Yang said.
But Yang is optimistic that more Chinese pet food companies will focus on brand-building and further improve marketing tactics.
"We will enhance our marketing awareness and learn brand management experience from our foreign competitors," said Yang.
Despite the problems, industry analysts are confident that the future is still bright for China's pet food industry.
Zhou from Gerson expects China's annual pet food sales to reach 50 billion yuan ($7.8 billion) in the next five years.
Pet food, which is central to the pet industry, will continue to be one of the fastest growing consumer goods industries and China will soon become a major player in the international market, he said.
Yang Yang contributed to this story.