Pet trade's four Ps: prim, proper, profitable pampering
Updated: 2011-09-10 09:10
By Liu Lu (China Daily)
| | | | | | | | | | | |
| --- | --- | --- | --- | --- | --- | --- | --- | --- | --- | --- |
|   | | Comments() | | Print | | Mail | | Large Medium  Small | 分享按钮 | 0 |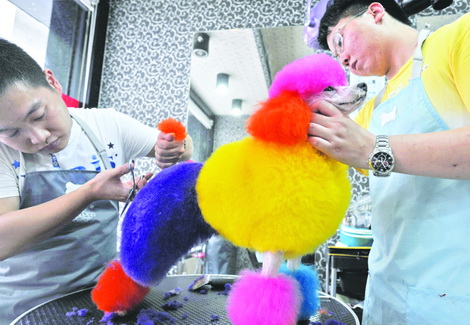 Riding on the back of the rise in pet ownership and the pursuit of the perfect pet are animal beauticians.[Photo/China Daily]
BEIJING - Qiuqiu is quite the fashion leader in her neighborhood. When she strolls down the street she draws the kind of second glances that only supermodels dare dream of.
This young urban miss loves to flaunt her beauty - a perky allure that stretches from head to tail. Her hair has been trimmed into the shape of a sleek dome; her long, furry ears and her bushy tail have been given the dye treatment, pink and yellow.
Fang Lei, the owner of Qiuqiu, a white female miniature poodle aged 4, takes her pet to the beauty salon twice a month.
Fang, 29, dotes on her "little princess", whose name translates as Little Ball.
Qiuqiu and her four-footed fellows nationwide are the fortunate beneficiaries of a surge in pet ownership, a craze that spares little expense as animals of all kinds are chauffeured to beauty parlors where their owners pamper them with everything from shampooing to hair trimming, and from fancy nail manicures to hair-dye and luxury spas.
Riding on the back of this rise in pet ownership and the endless, expensive pursuit of the perfect pet are animal beauticians. This previously barely known occupation is becoming a hot career prospect, and it has emerged as one of the most lucrative sectors of the country's pet economy.
"For China's pet industry, pet grooming is a fledgling business but has great growth potential," said Li Yuan, general manager of Kudi Pet, one of the country's largest retail chains that sells specialty pet supplies and services such as grooming and dog training.
Li says that Chinese pet owners' per capita consumption in grooming services accounted for nearly 40 percent of the overall spending on pets last year.
Pet owners in Beijing are calculated to have spent an average of 3,000 yuan ($469) last year to bring out the best in their pets, Li said, including baths, trims and basic beauty care. Pet owners in Shanghai spent 10 percent more.
Li said that with the improvement in people's living standards and the pursuit of individuality, keeping pets has become highly fashionable, which has delivered the pet grooming market an unprecedented opportunity for growth. She predicted that the market will grow 30 to 50 percent this year.
Pet World, one of the country's best-selling pet magazines, reckons there are more than 8,000 trained pet groomers nationwide, four times the number in 2005.
Twelve years ago commercial pet grooming was a novelty in China, and only half a dozen or so pet shops offered the service. Today, in Beijing, alone more than 300 registered specialized pet beauty salons and pet stores or hospitals offer grooming.
Despite that rapid growth, demand far outstrips supply, especially in mega cities such as Beijing and Shanghai and in second-tier cities such as Hangzhou and Chengdu. The shortage of pet groomers has inevitably pushed up demand, particularly for those with experience.
One of the big-name pet stylists is Li Jingtao, 31, who is often invited to give image design and hair care for pet stars with roles in TV commercials.
Li, from Harbin, in Northeast China's Heilongjiang province, became a pet stylist in Beijing six years ago, and his fame has spread far and wide with the help of awards won at national pet beautician contests.
Li said that there is more to pet grooming than washing animals. "It also provides other value-added services that require your expertise and creativity."
Two years of hands-on experience is needed to become a competent pet hairdresser, he said.
Three years ago the average monthly salary of a novice pet groomer in Beijing was about 2,000 yuan, he said, and that has more than doubled. In Shanghai and Hangzhou, the job is said to be even more lucrative, landing novices between 5,000 and 6,000 yuan a month.
Li said the average salary of a pet beautician with one or two years' experience can be as much as 10,000 yuan in some big cities.
Job prospects and attractive salaries are luring more people, young and old, to pet beautician training schools as they seek professional qualifications.
Some schools, intent on drawing top teaching talent and expertise, have recruited pet beauticians from overseas, including Europe and the United States.
Jian Wen Pet Grooming Academy in Beijing is one of the country's pioneers, having set up shop 10 years ago.
The academy's principal, Ma Yan, was one of China's first pet groomers, someone who tested the waters of the business 10 years ago. In China the industry is still in its infancy compared with the West, where the business is about 20 years old, she said.
Chinese pet stylists can learn a lot from their Western counterparts because pet grooming has a tradition that dates back to 18th century Europe, she said.
There, she said, the pet beautician industry is widespread and firmly established and there are norms and regulations that ensure the vitality of the industry. Such standards need to be adopted in China, she said.
"We are now in urgent need of a set of policies and an established system to regulate the industry, and the relatively low quality of the practitioners is yet to be standardized," Ma added.
The good news for Ma is that national standards for China's pet stylists are expected to be introduced early next year. She has been asked to serve as a senior industry professional in drafting the standards.
"The pet grooming industry is a by-product of a well-off economy. China, with its sustained and rapid economic development, is bound to become a new super consuming power in pet beauty services over the next 10 years," said Ma.