Biden gives assurances on debt
Updated: 2011-08-22 11:26
By Qin Jize and Qin Zhongwei (China Daily)
| | | | | | | | | | | |
| --- | --- | --- | --- | --- | --- | --- | --- | --- | --- | --- |
|   | | Comments() | | Print | | Mail | | Large Medium  Small | 分享按钮 | 0 |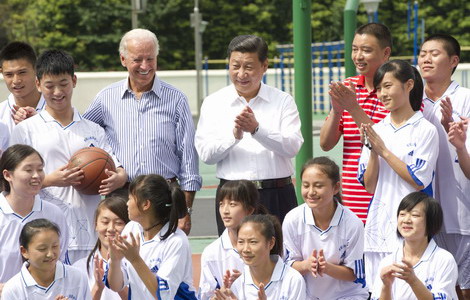 US Vice-President Joe Biden and his Chinese counterpart Xi Jinping share a light moment with students from Qingchengshan High School in Dujiangyan, Sichuan province, on Sunday. The school was rebuilt following the devastating earthquake of 2008. [Photo / Xinhua] 
'Not to worry' US vice-president says as he urges China to buy more
CHENGDU - US Vice-President Joe Biden reassured China on Sunday that the United States would never default on its debt, and urged the world's second-largest economy to continue to invest in US Treasury bonds.
In his only major address during a six-day tour of China - followed on Monday by visits to Mongolia and Japan, Biden pointed out that US citizens still hold the vast majority of the US debt.
"So our interest is not just to protect Chinese investment. We have an overarching interest in protecting the investment, while the US has never defaulted and never will default," he told an audience of about 400 students that included dozens of Peace Corps Volunteers at Sichuan University.
He promised that the US was taking steps to cut budget deficits and must control the growth of entitlements, such as medical care, while expressing great confidence in the strength of the US economy.
"Not to worry," the US vice-president said. "We are still the single best bet in the world in terms of where to invest.
"You're safe," he said.
For nearly an hour, Biden spoke highly of China's economic and social progress, stressing that a rising China is a positive development, not only for the Chinese people but for both the US and the world.
"A more prosperous China will mean more demand for American-made goods and services," Biden said. "We have a stake in one another's success.
"The more we can work together, the more our people will benefit ... the more the world will benefit as the consequence of our cooperation," he said.
He added that China's rising will bring the US a new partner with whom they can deal with the same global threats together and share many of the same strategic objectives and responsibilities.
He noted that Chinese and US prosperity is key to reviving the global economy and no serious problems can be resolved without Beijing and Washington at the table.
Though Biden has worked very hard to convey a message of confidence and willingness to fight against the debt crisis to both the Chinese leadership and the general public, analysts noted that confidence cannot be built just on lip service and substantive measures are required.
Wang Rongjun, an expert on American studies with the Chinese Academy of Social Sciences, said Biden's promises on their own could not eliminate the worries of the Chinese people.
"We need to see the US take tangible and long-term measures," he said.
Biden spent the rest of Sunday with his counterpart Xi Jinping.
The two leaders visited a high school in Dujiangyan, a small city close to Sichuan's capital Chengdu that was badly damaged in a devastating earthquake three years ago.
Biden and Xi watched as students underwent basketball training. The NBA has donated four outdoor basketball courts and one indoor.
After watching the basketball they went to an English class for senior students.
Both men took questions from a group of about 30 students.
"We have no reason to fear one another," Biden said. He apologized for not being able to speak Chinese but the students told him that there was no need to apologize.
Biden's visit to Sichuan province and his interaction with students showed that the US has attached greater strategic importance to the vast western region, said Yuan Peng, a senior researcher with the China Institute for Contemporary International Relations.
He said that he believed Biden's visit has achieved its original goal, part of which is to build good personal relations with his Chinese counterpart.
"They have been very close and had frequent contact," Yuan said.
He said sustaining regular and high-level contact between the two countries will be beneficial to building up Sino-US mutual strategic trust.