Service seeks road to success
Updated: 2011-08-22 11:00
By Gao Yuan (China Daily)
| | | | | | | | | | | |
| --- | --- | --- | --- | --- | --- | --- | --- | --- | --- | --- |
|   | | Comments() | | Print | | Mail | | Large Medium  Small | 分享按钮 | 0 |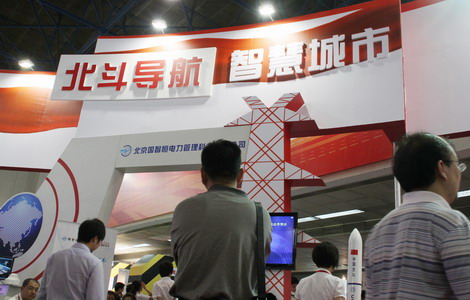 Visitors to a high technology exposition gather at the beidou navigation pavilion for information about the development of China's navigation industry. The event, the 14th China Beijing International High-Tech Expo, took place in May in Beijing. [Photo / China Daily]
As navigation technology develops, company expects demand to soar
BEIJING - Beijing Uni-Strong Science & Technology Co Ltd is poised to become China's Apple Inc - or, at least an Apple-oid - in the country's navigation industry, as some predict the little-developed sector could become a 100 billion yuan ($15.6 billion) business over the next five years.
"We are talking about a 50 billion yuan market in China, of which about 45 billion yuan will come from civilian navigation services," said Cao Hongjie, UniStrong's vice-president for technology. "The country has a huge demand (for navigation services) based on the immense population base." The market will add another 115 billion yuan by 2015, he said.
UniStrong's geographic information system (GIS) services has about 40 percent of the market share in China, said an Orient Securities Company Ltd report. The company's automobile navigation products, known as the renwoyou series, are the best-selling brands in the country, according to an Economic Observer report on Aug 5.
However, the company, listed on the Shenzhen Growth Enterprises Market , does not intend to stick to just selling navigation gadgets. Its ultimate goal - according to Guo Xinping, founder and chairman of UniStrong - is to sell integrated services to customers, like Apple is doing in selling applications.
On July 28, Uni-Strong launched China Position, the nation's first home-grown Web-based navigation platform, at the National Administration of Surveying, Mapping and Geoinformation headquarters in Beijing, which marked China's navigation industry stepping into the cloud computing age. That came a day after China put its ninth beidou navigation satellite into orbit. The orbiter was a part of the country's indigenous satellite navigation program, which has been under construction since 2000.
"We plan to build China Position into an open-ended navigation service-related platform, just like the Apple Store, which provides multifarious application downloads to its users from a variety of makers," Guo said.
The cloud computing platform was designed to provide seamless navigation of navigation satellites and land-based navigation systems, said Liu Jingnan, an academic at the Chinese Academy of Engineering, who specializes in satellite surveying and mapping.
The development blueprint for the satellite navigation industry was this year for the first time included into one of the country's five-year plans for technology, which means the government may increase its investment in the field previously dominated by foreign technologies and companies.
According to Guo, China's location-service industry remains young and untapped but possesses great potential. "We should gather the intelligence of all companies in the industry to bake an even bigger cake," he said, adding that China Position should not be a platform that only works with UniStrong's products but should grow into a national standard that allows all navigation-related companies to use it.
Guo also said his company may release China Position's source code sometime in the future so that more resources outside UniStrong will contribute to location services.
"By then, UniStrong may not be known as an end-product manufacturer but as an integrated location information service provider," the chairman said.
Guo and his company may not find it easy to become the Apple Inc of China's location-service industry. China Mobile Ltd, the country's largest telecommunications carrier by subscriber numbers, started to provide location-related services five years ago. China Unicom, the No 2 operator, launched its own location service as early as 2004.
Guo believes that his company has an edge when competing with the big operators. "We are far more professional than our competitors," he said. "Big companies such as China Mobile have invested few resources in location services because they have so many other businesses to look after. UniStrong's business is entirely location service, so we can devote 100 percent of our energy to making it outstanding."
The company has acquired the rights to get access to satellite networks such as the Chinese beidou system, which could provide location services to remote areas not covered by the signals of telecommunications operators. It is very important for the fishing industry and salvage work, he said.