The drive to go electric
Updated: 2011-08-10 11:32
By Lan Lan (China Daily)
| | | | | | | | | | | |
| --- | --- | --- | --- | --- | --- | --- | --- | --- | --- | --- |
|   | | Comments() | | Print | | Mail | | Large Medium  Small | 分享按钮 | 0 |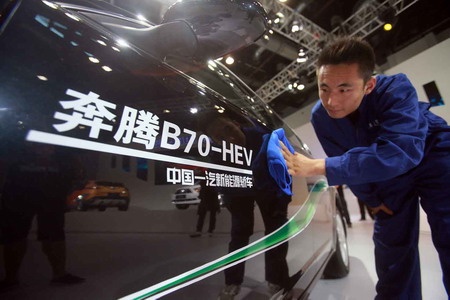 A Besturn electric concept car made by FAW Group Corp at an auto show in Beijing. While Chinese automakers regard new-energy vehicles as an opportunity to allow them to lead the global industry, they are also very cautious. [Photo / China Daily] 
To buy a conventional gasoline-driven car in Beijing, customers have to wait for months to obtain a registration plate through a lottery system because of the Chinese government's tightened purchasing policies.
There is no such limitation on electric cars, however, as the government seeks to encourage sales of new-energy vehicles.
In addition to a zero-rate purchase tax, buyers of electric vehicles can enjoy the benefits of a total price reduction of 120,000 yuan ($18,600) for each car as a result of central and local government policies designed to stimulate purchases.
The Chinese capital is one of 25 pilot cities chosen for large-scale promotion of electric vehicles.
However, sales remain low. Few brands have started to sell their wares through dedicated dealers and only a very small number of charging stations have been established in the city. Those that have been set up are currently lying idle.
Apart from the lucrative stimulus packages, all the other requirements, including infrastructures, the markets and even the cars themselves, are not ready.
To combat energy shortages and offer an opportunity for Chinese automakers to catch up with the global giants, the government has invested heavily in promoting "green" cars.
But the big question is: will all this really help domestic brands transform themselves into leading players?
At the factory of Beijing Electric Vehicle Co - the electric-vehicle unit of Beijing Automotive Industry Holding Co Ltd (BAIC) - in a southern suburb of the city, the iconic Saab 9-3 sports sedan has now been revamped as an electric car.
The design gives no indication that the vehicle is electric until one opens the hood: there is no engine as such, instead there's a typical power system for an electric car and the batteries are installed far away from prying eyes.
Unless you're a motoring expert, the driving experience is similar to that of an ordinary gasoline car and the engine even mimics the "kick-down" feeling of an automatic transmission.
BAIC is the Chinese partner of Daimler AG and Hyundai Motor Co. It established Beijing Electric Vehicle in late 2009. Other major players in the domestic industry have also established similar enterprises, over the past two years, underlining the emphasis on new-energy vehicles.
It only took two years for the company to expand its staff numbers to approximately 400 and roll out three electric cars: one model is based on the platform the company purchased from Sweden's Saab Automobile AB in 2009, while the others are based on Beijing Electric Vehicles' newly developed models using their domestic brands.
BAIC said that the first batch of electric vehicles was delivered to "fleet" customers - that is, those who buy in bulk - such as security and rental companies at the end of last year. According to the company, the city of Beijing wants to see around 5,000 electric cars launched on its roads this year.
"The coming 18 months will be a heated period for those domestic automakers wishing to launch new models, because the incentive policies are slated to be invalid by the end of 2012," said Frank Liao, executive chief engineer of Beijing Electric Vehicle.
The year-on-year growth of the world's largest auto market declined from 32 percent in 2010 to about 3.3 percent in the first half.
That slowing market has also made automakers view electric cars as an unmissable opportunity to step up the design and testing of new products.
"The fever for electric cars has ebbed and flowed many times in recent decades, but this time it's for real," said Liao, previously an engineer for General Motors Co (GM), whose first mass-produced electric car, the EV1, hit the market in the 1990s.
The EV1 went on sale in 1995, but the program was stopped in early 2002, partly because the auto giant reckoned that electric cars belonged to an unprofitable "high input" niche market.
Liao said that, on average, the technical levels of Chinese brands still lag behind those of the EV1, especially in terms of engineering and the manufacturing process. Moreover, the EV1 was road-tested over a period of almost a decade.
"The technology for lithium-ion batteries has jumped forward to a new era compared with 20 years ago, but in other aspects, little progress has been made," he said.