Ringing the changes
Updated: 2011-08-08 09:14
By Shen Jingting (China Daily)
| | | | | | | | | | | |
| --- | --- | --- | --- | --- | --- | --- | --- | --- | --- | --- |
|   | | Comments() | | Print | | Mail | | Large Medium  Small | 分享按钮 | 0 |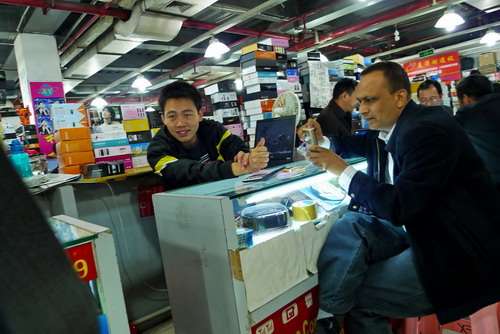 A customer from the Middle East (right) chooses a shanzhai (copycat) cell phone at a market in North Huangqiang business street, Shenzhen. [Photo / China Daily]
Nokia Corp's chief executive officer, Stephen Elop, might be surprised to learn that he was the subject of intense discussions among many people in Shenzhen when he paid a low profile visit to this southern Chinese coastal city in May.
Sporting his familiar "buzz cut", Elop, who assumed control of the world's biggest supplier of mobile phones by shipments in September, took a trip to North Huangqiang business street in central Shenzhen. The street has been renowned as China's biggest distribution center for mobile phones since the late 1990s.
Elop's visit thrilled many people in the city, which has flourished in recent decades largely because of its unparalleled mobile-device production chain and is probably home to thousands of handset manufacturers.
"Eventually, Elop felt the chill," said Chao Qing, an official at one of Shenzhen's "no-brand" mobile phone factories, with reference to the current woes afflicting the Finnish phone maker. In addition to well-known rivals such as Samsung Electronics Co and Apple Inc, Nokia is also under siege from Chinese-made handsets in many emerging markets, including China - and most of them are produced in Shenzhen.
Chao said the city's mobile device manufacturers are good at moving fast, producing a wide variety of handsets that precisely meet customer demand, although at present, the most-targeted group is people on low incomes.
"Elop should really have come to Shenzhen earlier, so he could have seen our methods for himself and learned a few tricks," commented Chao.
The Nokia CEO has had his work cut out attempting to stave off a sales decline in emerging markets and averting further crises since he took up his position.
The mobile phone has become another typical "Made-in-China" (MIC) product, following on from DVD players and TVs, said Chao. "However, unlike the ups and downs we've seen before, we hope to build a long-term business this time around."
Getting connected
Global handset sales (both legitimate and "gray" market) reached 1.47 billion units in 2010, an increase from the 853 million recorded in 2005, according to data from the researcher Strategy Analytics.
MIC handsets (including Hong Kong, but excluding Taiwan) accounted for approximately 65 percent of global sales in 2010, up from just 19 percent in 2001and 40 percent in 2006, said Linda Sui, a US-based consultant with Strategy Analytics.
Among those MIC handsets, approximately 70 percent were manufactured in Shenzhen, said Sun Wenping, secretary-general of the Shenzhen Mobile Communications Association.
Sun, an energetic man, can talk endlessly about how amazing Shenzhen is. He frequently tells friends that the city is "the world's mobile phone center".
"If you want to buy perfume, people think of Paris. If you want a mobile phone, Shenzhen should be your choice," he said.
Sun said that there are about 3,000 phone manufacturers in the city, including some big names such as Huawei Technologies Co Ltd, ZTE Corp and TCL Corp.
Their combined output was 890 million mobile phones with a value of more than 370 billion yuan ($57.47 billion) in 2010.
Unlike Apple, which probably takes a year to research and test a new model, Shenzhen's mobile-phone manufacturers have a much higher productivity rate.
"From the idea to the actual product hitting the market, the fastest Shenzhen producers only need 20 days," Sun said.
The price is low, too. Since Taiwan-based MediaTek Inc provided so-called "turnkey solutions" - comprehensive manufacturing equipment and support - which greatly reduced costs for low-end mobile phone makers in the mid-2000s, the average price of exported MIC cell phones has fallen to as little as 280 yuan a unit, or even lower, Sun added.
Meanwhile, Shenzhen's mobile phone designers are not lacking in creativity. There are specialized phones for divers, which allow the use of a number of functions 100 meters below the surface of the water, and even handsets that can withstand high temperatures and are, therefore, helpful to fire fighters.
Parents can buy mobile phones fitted with a global positioning system, which allows them to track their children's location and check that they are in a safe place.
And they're fashionable: Some handsets are shaped like a sports car, while others resemble a stiletto shoe.
C.K. Lu, senior mobile device research analyst at Gartner Inc, said two of the most obvious characteristics of MIC mobile phones are "special features tailored to different user segments and a rapid response to market trends".