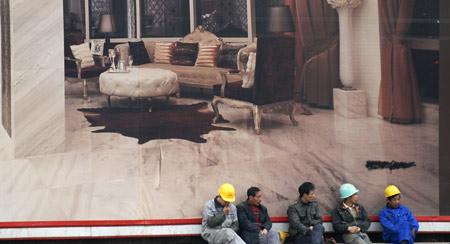 Construction workers take a rest outside a property project in Beijing's central business district.[China Daily]
Measures unlikely to trigger an increase in bad debts for lenders, say experts
BEIJING - The recent government measures to cool the red-hot property market will not slow economic growth or lead to a significant rise in the bad debts of lenders, a central bank adviser said on Tuesday.
Li Daokui, a member of the central bank's monetary policy committee, said the tightening measures would in no way dampen real estate investment, a key component of China's economic growth.
"The current wave of tightening measures are aimed to cool soaring property prices, rather than curb realty investment," Li, also a professor at Tsinghua University, told China Daily.
"In fact, we will see that the government will increase land and housing supply in the lower-end segment this year, something that would spur property investment," he said.
In the current round of stimulus-driven economic growth, the booming property sector is largely "a free rider", Li said. "Indeed, there are multiple growth engines for the Chinese economy, for example, the accelerating urbanization drive, infrastructure investment and rising consumer demand."
The Chinese government rolled out a series of measures to cool the sizzling property market, including a ban on loans for third-home buyers and tighter mortgage standards for second-home buyers, after real estate prices in 70 major cities went up by a record 11.7 percent in March.
The government measures triggered fears that it would derail investments by developers and dampen property sector sentiment, a pillar industry that could have a ripple effect on over 60 other sectors. The real estate sector accounts for about one fourth of China's fixed-asset investment, which in turn contributed to about 90 percent of the nation's GDP growth last year.
Zhang Xiaojing, senior economist at the Chinese Academy of Social Sciences, said policymakers still need some more time to see how the market would respond to the tightening measures.
"It is still premature to conclude that the tightening measures will drag down growth, even though it has brought some downside pressure to the economy," Zhang said.
Related readings:


 China's real estate time bomb ticking


 Real estate market 'overheating'


 China real estate bazaar drowns out govt warnings


 Real estate broker enjoying the ride
He said policymakers would wait and see the real impact of these measures on the overall economy. "The government may relax some of the policies once they get worried about a sharp slowdown in construction activity."
Experts also said that the risk of bad loans increasing for lenders as a result of the measures was limited. "Mortgage loans and lending to real estate developers accounted for only 18 percent of the total outstanding loans at the end of last year," said Tang Jianwei, an economist with Bank of Communications, the nation's fifth largest lender by assets. "It is a low level compared with other countries."
Most of last year's record lending went to projects backed by local governments. There are now concerns that the new measures could reduce the fiscal revenues of local governments, as a big chunk of it comes from land sales to developers.
"There are multiple ways to expand local government's sources of income, like allowing them to issue bonds," Li said.