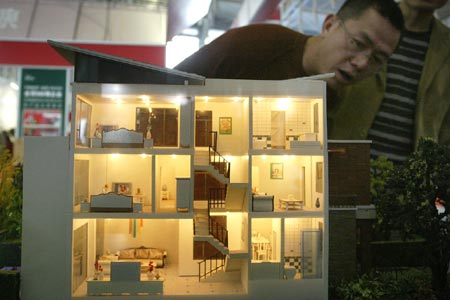 A man looks at a model of a house at a recent expo in Nanjing, Jiangsu province. Property prices in China rose at the fastest pace in almost two years in February, spurring warnings of asset bubbles. [China Daily]
Investors should be cautious of developers as industry shares dip
SHANGHAI - China's real-estate market is overheating and investors should stay cautious on developers after the shares fell the most in the main equities index this year, according to Nomura Asset Management Hong Kong Ltd.
"In the first-tier cities, property markets are obviously overheating," Shen Xiaomin, portfolio manager at Nomura Asset, said on Monday.
"There is too much money in the economy," Shen said.
Property prices in China rose at the fastest pace in almost two years in February, spurring warnings of asset bubbles. Hedge fund manager James Chanos said last week that China's land market is a bubble that may burst as early as this year.
The SE Shang Property Index slumped 2.6 percent on Monday.
The property stock gauge has declined 10 percent this year, the worst-performer among the five industry groups on the Shanghai Composite Index, after officials re-introduced a tax on homes sold within five years of their purchase to curb speculation and asked banks to set aside more funds as reserves to cool lending.
China Vanke Co, the nation's biggest publicly traded developer, slid 2 percent to 9.20 yuan, while Poly Real Estate Group Co, the second largest, dropped 4.3 percent to 18.76 yuan. The Shanghai Composite fell 0.5 percent.
Kenny Tang, a Hong Kong-based analyst at Redford Assets Management Ltd, said the real-estate industry is a key part of the economy and predicted tightening measures by the government won't be "too strong".
"The government won't kill the property market," he said.
China housing prices will increase 11.4 percent in March, according to a Bloomberg survey. The monthly data is due to be released this week.
Related readings:


 China real estate bazaar drowns out govt warnings


 Real estate broker enjoying the ride


 CNPC says to pull out of profitable real estate business


 Real estate market warms up again
Shanghai and Beijing are among the cities that are affected by so-called "hot money" and speculation, Liu Mingkang, chairman of the China Banking Regulatory Commission, said on Sunday.
Hot money generally refers to speculative funds flowing into a country to take advantage of higher returns.
The regulator told lenders to reassess their risk exposures and submit reports by the end of June this year.
This follows an order in March to banks not to lend to developers holding land without building houses in a March 26 statement.
"Overall we still need to be very cautious on the property sector," Nomura's Shen said.
Bloomberg News