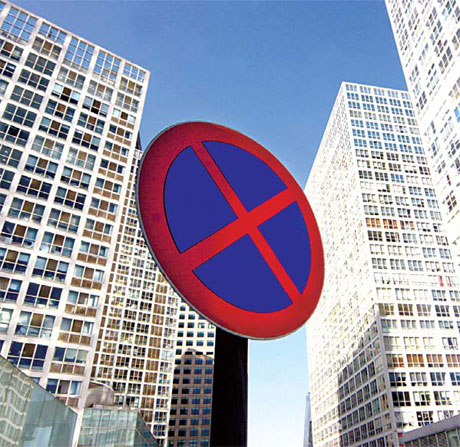 Existing housing prices are already out of the reach for most people in key cities, so who are the major buyers? Netizens believe the country's property sector is heading to a dead end. [Provided to China Daily]
New policy to keep rocketing housing prices at bay amid fears of bubble
BEIJING - How much should two chicken pancakes cost? For Zhao Rui, a 28-year-old company executive in Beijing, they cost him 400,000 yuan when he missed the chance to buy a home at a lower price during his lunchtime.
In early March, Zhao settled on a two-bedroom apartment in Beijing's Tongzhou district outside the city's eastern Fifth Ring Road. Except for the 18,000 yuan per square meter price, he was quite satisfied with it. So, before finally handing over the cash, Zhao and his girlfriend decided to have lunch. But when they returned to the sales office and were ready to pay, they were told that the apartments had sold out and they would have to wait another three weeks for the next building to become available.
A couple of weeks later, Zhao, fearing he could never afford such a home if he continued to hesitate, paid 400,000 yuan more for a similar sized apartment in the same community.
Zhao's experience is the epitome of China's property market after the annual sessions of the nation's top legislature and the political advisory body in March.
Because there were no further tightening policies from the legislative session, due to supply and demand imbalances and the frequent appearance of "land kings", peoples' expectations of further price hikes strengthened and the market returned to a fast growth track, fueling concerns of a bubble.
According to the National Bureau of Statistics, property prices in China's 70 major cities grew 11.7 percent in March from a year earlier, up from 10.7 percent in February, the biggest year-on-year increase for a single month after the bureau expanded its coverage ambit to 70 cities in July, 2005.
At the recently concluded Beijing Real Estate Expo, the average sales price of new apartments in the capital was 21,164 yuan per sq m, double that of last year. Statistics from China Real Estate Information Corporation show that 793,000 sq m of residential housing was sold in Shanghai in March, surging 140 percent from the previous month. This was the first rebound after three consecutive months of declines.
Surprisingly, despite most people complaining about soaring property prices, most real estate projects in the country's key cities still sold pretty well. In fact, quite a number of projects in Beijing and Shanghai were sold out on their first day of trading. In Hangzhou, more than 4,000 people struggled for 224 apartments with an average price of 18,000 yuan per sq m last weekend, creating chaos and forcing the developer to call the police.
As the current prices are already out of the reach of most people in key cities, who are the major buyers?
According to a report from the central bank, investment-oriented home purchases accounted for 23.1 percent in the first quarter of this year, reaching a record high in the past two years. The proportion, which has been on the rise for four quarters in a row, is 1.8 percentage points higher than the previous quarter.
The report also shows 14.2 percent of residents have more than one apartment, one percentage point higher quarter-on-quarter.
"With a spare 400,000 to 500,000 yuan at hand, could you find a better investment channel than buying properties?" said Li Yan, a businessman working in Wenzhou and Beijing. But, even though properties are regarded as the best commodity to hedge inflation risks, the skyrocketing property price has made such an investment more risky, as evidenced by internationally accepted indicators.
For people on average incomes in Beijing and Shanghai, a regular two-bedroom apartment may cost them 20 to 30 years' income, far higher than the international average of six years. In a healthy market, landlords can reach the break-even point after receiving rents for 16 to 25 years. But in Beijing and Shanghai, they need 36 to 42 years to get the cost back, according to China Index Academy, a real estate research institute. Those figures, however, are at a more reasonable level in the country's second- and third-tier cities.
"Buying an apartment, or more accurately, snagging a home at the moment, is no different from putting a time bomb beside you," said Wang Liang, a college teacher who gives up his previous plan to buy a home in Beijing.
Now the question is when the bubble will burst? How seriously could this hurt the economy at large? And can this "time bomb" be safely removed?
According to an online timetable that is quite popular among netizens, China's real estate sector is likely to encounter a big crash next year, comparing similar phenomena in the country from 2005 to 2008 with that in Japan between 1985 to 1991, such as almost 10 percent economic growth, high reliance on exports, huge pressure for currency appreciation and soaring property prices.
However, industry experts said the forecast doesn't hold water, as China and Japan differ greatly in terms of their demographic structure, and the banking system.
"I don't see the possibility of such a burst in China," said Danny Ma, senior director of CBRE Research China, citing the different stage of urbanization as an important factor.
When Japan's bubble burst in 1985, the urbanization rate in the island country had hit 75.7 percent. So, real-estate prices rose without real demand for houses related to urbanization. But in China today, the figure is still around 45 percent, thus the property market remains shored up by the rapid urbanization process, he explained.
According to a paper co-written by four economists at the Bank of Japan (BOJ), Japan's experiences show the extent of property-market adjustment differs depending on the stage of economic development.
"Given its high potential growth and low leverage, China is unlikely suffer a severe property market adjustment, like the one Japan experienced in the 1990s," the economists said. Moreover, any property-market bust following the current boom may prove temporary, given China's stage of economic development, they say.
For Wang Tao, head of China economic research at UBS, the biggest difference between these two countries is that China is still at a low stage of development. So, if there is a big correction, it still has the potential to grow out of it.
"If the government takes chance and effective measures, history will not be repeated. And I believe the Chinese government has a great ability to prevent such a bubble from bursting," said Shen Jianguang, deputy research head of CICC Hong Kong.
Related readings:

 Real estate market cools down in Shanghai on government moves


 Vandals hired by real estate company sentenced


 Real estate broker enjoying the ride


 Real estate market warms up again
The central government has raised the required downpayment for Chinese people to buy their second homes from the existing 40 percent to 50 percent, as the latest measure to curb soaring property prices and prevent growing financial risks.
Liu Mingkang, chairman of the China Banking Regulatory Commission, said at the recently concluded Boao Forum for Asia that the banking system has plenty of ways to deal with risks arising from the property sector's downside pressure.
Meanwhile, industry sources said a new tax, which is quite similar to the property tax, will soon be levied in some cities on a pilot basis, aiming to increase the cost of holding more than one properties and prevent speculation. The Ministry of Land and Resources announced on Thursday that it will allocate 180,000 hectares of land to build residential housing in 2010, more than double the figure last year.
"All these measures, if soundly implemented, will effectively prevent property prices in some cities from skyrocketing further. And a soft landing of the real estate market could be expected," said Qi Fan, an analyst with US real estate brokerage firm Century 21.