60-year-old award meant to honor spirit of excellent people in China
BEIJING - A total of 74 migrant workers from across the country were bestowed "model worker" medals - a top honor for working people in China - on Tuesday in Beijing.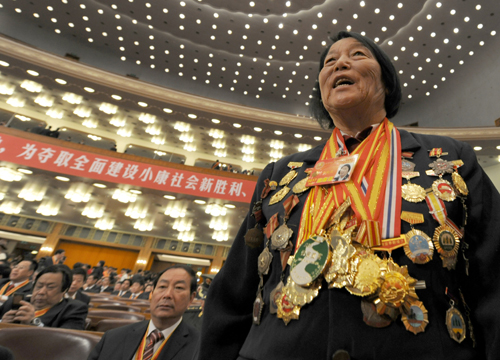 Shen Jilan, 81, a veteran national model worker, proudly stands up at the Great Hall of the People in Beijing on Tuesday to display the medals she has been awarded over the past fi ve decades in honor of her hard work.YU WENGUO / FOR CHINA DAILY
The number is more than three times the amount given in 2005, when the last awards ceremony was held. Only 21 migrant workers received the title in 2005, showing that the 60-year-old honorary title is keeping pace with the times.
The 74 migrant workers were among the total 2,115 workers, coming from all walks of life, who received the top honor at a meeting in the Great Hall of the People.
Another 870 workers who were awarded "advanced workers" honors also attended the meeting, which is seen as a grand celebration prior to the International Labor Day on Saturday.
At the meeting, President Hu Jintao congratulated all workers in China and the world, urging people nationwide to learn from the spirit of "model workers". He also called for better protection of workers' rights and interests.
In 1950, China started to award "model workers". For decades, the title in China has come to represent selflessness among the working class. The awards are given every five years.
Sixty years later, the nation seemed to try to update the title by awarding this honor to people from new industries and areas.
Apart from the 74 migrant workers who were awarded "model workers" medals on Tuesday, two men - one from Japan and the other from France - who both work in the medical field in Beijing, also received the "model workers" award.
They were the first-ever foreign "model workers" in China.
"Model workers" visited campuses on Monday to share their experiences and values with students in primary and middle schools, as well as universities in Beijing.
Model worker Hu Shengyun, an engineer from China Sanjing Space Group who successfully overcame many technical difficulties in the national defense field, encouraged the students to join the space industry, which provides "the best platform for young people to contribute to the nation's development as well as build a glamorous career for themselves".
Yang Pengfei, a doctoral student at Tsinghua University, said he was impressed by the "model workers".
"Although the title sounds a little old fashioned and distant from me, people who were given this honor turned out to be outstanding in their profession and deserve high respect," he said.
CHINA DAILY
(China Daily 04/28/2010 page4)